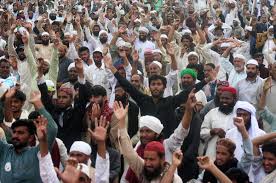 By Muhammad Luqman
Pakistan's federal law minister Zahid Hamid has resigned as government concluded an agreement with the leaders of the protesters who have blocked a major highway between Pakistani capital Islamabad and the nearby town of Rawalpindi for weeks, according to media reports.
The agreement would result in the dispersal of the demonstrators in Islamabad and in other cities, Interior Minister Ahsan Iqbal told the Islamabad High Court during a hearing on Monday, ending a weeks-long standoff that threatened to escalate into countrywide violence.
"On the assurance of the Chief of Army Staff, we are calling off the sit-in," leader of Tehrik-e-Labaik Ya Rasool Allah Khadim Hussain Rizvi told a crowd of around 2,500 demonstrators in Islamabad.
According to agreement, all protesters who were arrested during the course of the sit-in, which began on November 8, will be released within three days.
The government will also take responsibility for paying for any damage caused to both public and private property during the protest.
An inquiry will also be ordered into a government security crackdown on Saturday which saw thousands of riot police firing tear gas, rubber bullets and water cannon in an attempt to disperse the protesters.
Demonstrators fought back with stones, sticks and metal rods, and were able to beat back the authorities.
At least five people were killed and more than 217 – mostly members of the security forces – wounded in those clashes.