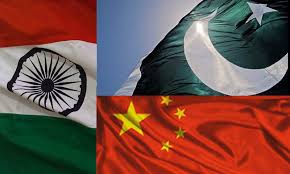 Web Desk
Pakistan's  Interior Minister Ahsan Iqbal has  said  that  India could be involved in the killing of  two Chinese citizens in the port city of Karachi as the eastern nuclear- armed neighbour has undue apprehensions over China Pakistan Economic Corridor (CPEC) projects.
" Indian spy Kulbhushan Jadhav, who is under arrest on charges of espionage, has also admitted that there is an Indian spy network to sabotage the CPEC," Iqbal said in an interview with British media organization, BBC.
The two Chinese were in their car in an upmarket area on Monday when the attackers in another car opened fire on their vehicle, according to police, describing it as an apparent "targeted attack".
"Such incidents would not weaken friendship between Pakistan and China and in fact further strengthen it," he said.
On a question regarding allegations of terror safe havens in Pakistan, the minister quoted US as saying that forty-five per cent of Afghan territory is under control of extremists and there is no reason for them to have sanctuaries in Pakistan.
Ahsan Iqbal said the US administration has hinted that economic aid to Pakistan will not be stopped. He said that different lobbies are working in the US and want to introduce bills in the US Congress of their own choice.
The US is using different war tactics in Afghanistan according to its new policy, he added.
"The geography of Pakistan and Afghanistan is the same, and Pakistan is the only important and supportive country for the United States in peace efforts in Afghanistan."
He rejected Afghanistan claim that the terrorists handed over by Pakistan were not Taliban but ordinary refugees.