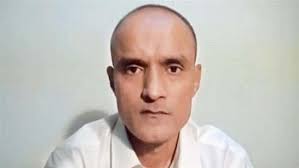 By Muhammad Luqman
Pakistan has extended offer of meeting to the wife of Indian spy Kulbhushan Yadav with her husband, Foreign Office said Friday.
According to the Foreign Office, Kulbhushan's wife would be invited to Pakistan and the meeting with her husband would be arranged..
Pakistan has sent official offer letter to Indian High Commission in Islamabad in this regard. The offer has made on humanitarian grounds, the foreign office said.
Kulbhushan Yadav was arrested by Pakistani security agencies from the border area of Balochistan on March 03, 2016.
The Indian spy is accused of heinous crimes including terrorism and espionage. He has confessed to the accusations against him before magistrate, the foreign office said.
Yadav had been awarded death sentence by the Field Court Martial General (FCGM) under the Pakistan Army Act (PAA) for espionage and sabotage activities against Pakistan.
The agent, arrested from Balochistan, in a video confession had admitted for being involved in anti-Pakistan activities.
Pakistan has raised this issue at all international forums and shared dossiers with the international community including the United Nations.