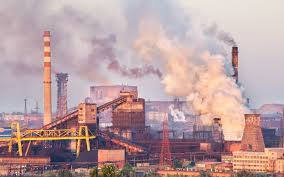 Gurugram  or Gurgaon, a satellite town of Indian capital, New Delhi led all cities in the world  in pollution levels in the year 2018,  according to data released by IQAir AirVisual and Greenpeace.
Pakistan's agro-industrial city, Faisalabad  remained the third most polluted city  while Karachi was the tenth in the ranking.
India that claims to be world's fastest-growing major economy, makes up 22 of the top 30 most polluted cities.
Seven of the top 10 most polluted cities in the world are in India, according to a new study showing South Asia's battle with deteriorating air quality and the economic toll it's expected to take worldwide.
The index measures the presence of fine particulate matter known as PM2.5, a pollutant that can go deep into the lungs and bloodstream of human beings.
"This has enormous impacts, on our health and on our wallets," Yeb Sano, executive director of Greenpeace Southeast Asia, said in a statement released with the figures.
"In addition to human lives lost, there's an estimated cost of $225 billion in lost labor, and trillions in medical costs."
China made marked progress in its usually  very high pollution levels, with average concentrations falling by 12 percent in 2018 from the previous year, according to the report.
In two months of last year, the AQI in Gurugram — as measured by levels of fine particulate matter known as PM 2.5 — was above 200. The EPA regards this as "very unhealthy" and warns that "everyone may experience more serious health effects" if exposed.
According to the report, air pollution will cause around 7 million premature deaths globally next year and have a major economic impact.
Climate change "is making the effects of air pollution worse by changing atmospheric conditions and amplifying forest fires," the report said, while noting that the key driver of global warming, burning fossil fuels, is also a major cause of dirty air.
"What is clear is that the common culprit across the globe is the burning of fossil fuels — coal, oil and gas — worsened by the cutting down of our forests," Sano said.
"What we need to see is our leaders thinking seriously about our health and the climate by looking at a fair transition out of fossil fuels while telling us clearly the level of our air quality, so that steps can be taken to tackle this health and climate crisis."
While South Asian countries, along with China, are the worst affected, air pollution is a global issue.
Of the 3,000 cities measured in the report, 64% exceeded the World Health Organization's annual exposure guidelines for PM2.5.
PM2.5 includes pollutants such as sulfate, nitrates and black carbon, which can sneak deep into the lungs and cardiovascular system. Exposure to such particles has been linked to lung and heart disorders, and can impair cognitive and immune functions.
Every single city included in the report in the Middle East and Africa exceeded WHO guidelines for PM2.5, as did 99% of cities in South Asia, 95% in Southeast Asia, and 89% in East Asia.
"As many areas lack up-to-date public air quality information and are for this reason not represented in this report, the total number of cities exceeding the WHO PM2.5 threshold is expected to be far higher," the report warned.
One bright spot was China, once the world's poster child for urban air pollution. The report found that average concentrations of pollutants fell in Chinese cities by 12% from 2017 to 2018, while the capital Beijing has fallen out of the top 100 most polluted cities following concerted efforts to get air pollution under control.
China's most polluted city in 2018, according to the Greenpeace/AirVisual report, was Hotan in the far west. Baoding, which once ranked among the worst in the country, is now at number 33. When CNN visited in 2015, residents said they often couldn't see neighboring buildings because the air was so smoggy.
While China saw improvement, however, many neighboring countries suffered major increases in pollution, including in Indonesia, South Korea, Vietnam and Thailand.
In January, authorities in Bangkok deployed planes with special rainmaking capabilities — a technique known as cloud seeding — to relieve persistent pollution in the Thai capital. In the same month, cities across South Korea, China and India reported major spikes in air pollution, as winter fuel burning contributed to the smog blanketing the region.