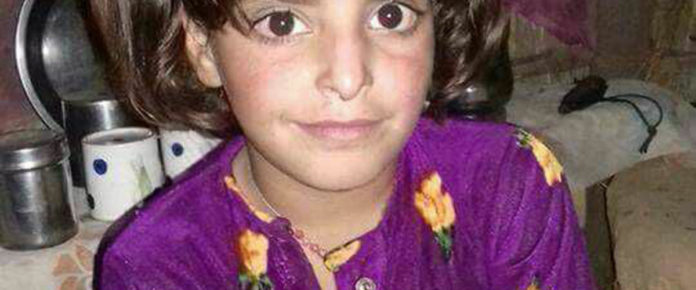 By Muhammad Luqman
The brutal gang rape and murder of an eight-year-old Muslim girl in Indian held Jammu region has put the restive Kashmir on edge, according to Western  and Indian media reports.
Asifa Bano, belonging to the nomadic Muslim Bakarwal community was abducted on January 10 and held captive in a Hindu temple and raped before being strangulated to death. He body was found in a forest , a few hundred meters from her home.
According to a BBC report, the crime has shocked the community, exposing the fault lines between Hindu-majority Jammu and the Muslim-majority Kashmir valley in a sharply divided state. The Kashmir valley has a tumultuous relationship with India – there has been an armed revolt in the region against Indian rule since 1989. Police have arrested eight men, including a retired government official, four police officers and a juvenile in connection with Asifa's death.
However, the arrests have led to protests in Hindu-majority Jammu where lawyers tried to stop police entering the court to file a charge sheet and two ministers from the Hindu nationalist Bharatiya Janata Party (BJP) attended a rally in support of the rapists.
The BJP rules the state in a coalition with the regional People's Democratic Party (PDP).
On 23 January, six days after Asifa's body was found,  the Chief Minister of Indian-controlled Jammu and Kashmir, Mehbooba Mufti, ordered an investigation by the crime branch, a special unit of the state police.
According to the investigators, Asifa was confined in a local temple for several days and given sedatives that kept her unconscious. The charge sheet alleges that she was "raped for days, tortured and then finally murdered". She was strangled to death and then hit on the head twice with a stone.
Sanji Ram, a 60-year-old retired government officer, allegedly planned the crime with the help of police officers Surender Verma, Anand Dutta, Tilak Raj and Khajuria.
Ram's son, Vishal, his nephew, a juvenile, and his friend, Parvesh Kumar, are also accused over the rape and murder.
In Jammu and Kashmir state assembly, Mian Altaf, an influential Gujjar leader and an opposition legislator, waved the newspapers with photographs of Asifa while demanding an inquiry.
The Gujjars wanted to bury Asifa in a graveyard where they had purchased some land a few years ago and had already buried five people but when they arrived there. They were surrounded by Hindu right-wing activists who threatened them with violence if they were to continue with the burial. They had to bury the girl in another village, according to media reports.