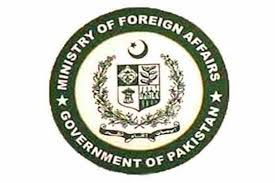 By Muhammad Luqman
Pakistan's Foreign Office has said that that India has funded the anti-Pakistan campaign under way in Swiss city of Geneva.
" India is involved in creating unrest in Balochistan," Foreign Office spokesman Nafees Zakaria told weekly press briefing on Thursday.
He said , after Narinder Modi's comments on Balochistan, anti-Pakistan activities have picked up pace. He said that undeniable evidence of Indian use of Afghan soil [against Pakistan] exists.
The FO spokesman said that the meeting between the prime ministers of Pakistan-India is not on the schedule.
He said that last week's joint statement by Japan and India was disappointing.
The FO spokesman condemned the detention of Kashmiri leaders and said that Indian forces martyred four more innocent citizens..
He demanded that the international community should take notice of the atrocities.
Zakaria said that Chief of Army Staff Gen Qamar Javed Bajwa will leave for Moscow in the first week of October.
The visit is a continuation of high-level contacts between Islamabad and Moscow and a reflection of a wish to improve bilateral ties.
The army chief's visit to Russia will contribute to the defence cooperation between the two countries.