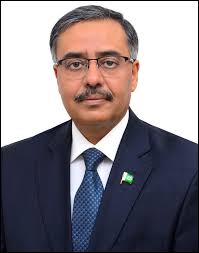 By Muhammad Luqman
Pakistan's High Commissioner in India, Sohail Mahmood has been appointed as country's new foreign secretary.
He is going to replace Tehmina Janjua after her retirement on April 16. Janjua was the first woman to become Pakistan's foreign secretary.
"Sohail Mahmood has been appointed foreign secretary after consultation with the prime minister," Foreign Minister Shah Mahmood Qureshi told media in central Pakistan town of Multan on Sunday.
Sohail Mahmood has previously served as Pakistan's ambassador to Turkey. Before that, he served as the ambassador to Thailand and permanent representative to the UNESCP Bangkok for four years till 2013.
He has also served as political coordinator for Pakistan's delegation to the UN Security Council.
Mahmood has received a Bachelor of Arts degree in History and Political Science from Government College in Rawalpindi, a Masters of Arts in History from Quaid-e-Azam University in Islamabad, and a Masters in International Affairs from Columbia University in New York.
He joined the Foreign Service of Pakistan in October 1985. At the Ministry of Foreign Affairs (Mofa), Mahmood served ─ among other positions ─ as Additional Secretary for Afghanistan/West Asia .