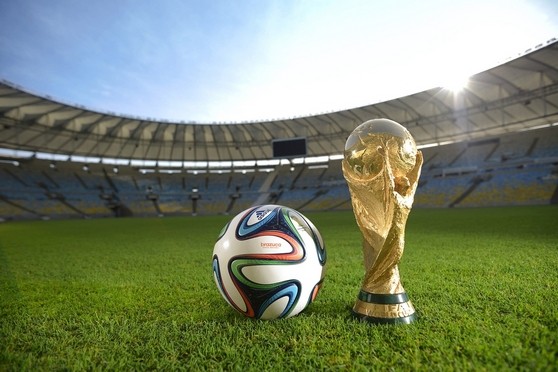 By Muhammad Luqman
Pakistan is not among the 36 countries participating the 2018 FIFA World Cup but footballs made in its north-eastern city of Sialkot will be used by the world renowned teams during this mega sports event.
The Russian Ambassador to Pakistan Alexey Dedov  has confirmed that Sialkot-made footballs will be used in the 2018 FIFA World Cup, which is slated for later this year, according to media report.
Pakistanis will have their special moment of joy when they see footballs made in their own country being used to score goals in the  tournament being played in Russia.
" We have stepped up the production . My company alone has the capacity to churn out 700,000 footballs a month," Forward Sports chairman Khawaja Masood told a Pakistani news channel.
"This is an honour for us, that we are going to provide footballs for the world cup once again. We are very excited to meet this challenge," the jubilant Masood said.
The football that will be used in the upcoming tournament is technically termed as thermo bonded, which was first introduced in the 2014 FIFA World Cup.
Before that, Pakistan had supplied hand stitched football for almost all the World Cups from the 1990s to 2010.
Other types of footballs produced in Sialkot are glued balls and hand stitched balls.
"Thermo bonded balls are made by attaching the panels through heat – the latest technology adopted by Adidas and transferred to Forward Sports in 2013." The industrialist said.
According to Husnain Cheema,  the president of the Pakistan Sports Goods Association,  Pakistan's share in global supply of footballs in 2018  may touch  10 million mark.
Traditionally, Pakistani footballs used to be hand-stitched, but that changed in 2013 when  the companies  switched to thermo bonded balls, whose panels are joined together through heat rather than stitches.
Local manufacturers believe Pakistani companies are  snatching business from their Chinese counterparts with their high-quality end products.
"Huge football production business is being transferred from China to Pakistan because of the quality we are providing to the world," Ijaz Khokhar,  the chairman of Pakistan Readymade Garments Manufacturers and Exporters Association, recently told Al Jazeera TV.
Recently,  FIFA  World Cup 2018  trophy visited Pakistan's eastern city of Lahore, attracting thousands of football  lovers.
"Pakistan has a great number of football lovers," said the former midfielder  of France Christian Karembeu who accompanied the trophy from Thailand.