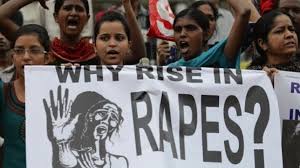 Web Desk
India's cabinet has approved the capital punishment for those convicted of raping girls below the age of 12 years amid protests in the South Asian country  after a series of cases of sexual violence.
The move follows widespread outrage over the gang rape and killing of an 8-year-old girl in Indian-controlled Kashmir , the alleged rape of a girl by a ruling party lawmaker in Uttar Pradesh state and several other rape cases involving girls in the South Asian country.
Many protesters expressed particular anger at India's ruling Hindu nationalist party for initially siding with the accused in the Kashmir case. The young victim was a Muslim and the accused are Hindus.
According to Indian media, the decision was taken at the emergency meeting called by Prime Minister Narendra Modi. The cabinet passed an ordinance, to amend the criminal law to also include more drastic punishment for convicted rapists of girls below the age of 16 years.
A big number of Indians have criticized Prime Minister Narendra  Modi's government for not doing enough to protect the  women, piling pressure on his Hindu nationalist Bharatiya Janata Party (BJP) as Indians are going for polls next year.
A total of at least nine suspects, including a lawmaker from the ruling Bharatiya Janata Party and four police officials, have been arrested in the two cases reported recently from Jammu-Kashmir and Uttar Pradesh states.
Violent crime against women has been on the rise in India despite tough laws enacted in 2013. In 2012, the fatal  gang rape of a young woman in New Delhi bus triggered massive protests by hundreds of thousands to demand stricter rape laws in the country, according to media reports.