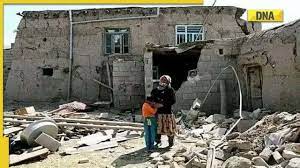 Web Desk
A powerful earthquake with a magnitude of 6.1 struck the eastern provinces of Afghanistan on Tuesday night killing over 1,000 people and injuring hundreds more, officials said on Wednesday.
Houses were reduced to rubble and bodies swathed in blankets lay on the ground, photographs on Afghan media showed.
Helicopters were deployed in the rescue effort to reach the injured and fly in medical supplies and food, interior ministry official Salahuddin Ayubi said.
Most of the confirmed deaths were in the eastern province of Paktika, where 255 people were killed and more than 200 injured, Ayubi added. In the province of Khost, 25 were dead and 90 had been taken to hospital.
The European-Mediterranean Seismological Centre put the earthquake's magnitude at 6.1, while the United States Geological Survey (USGS) said it was 5.9.
Disaster management officials said at least 1,000 are dead and 600 injured. However, local officials put the number of injured higher.
"1,000 dead, 1,500 injured, and this number might go up, many families have been lost. Injured people have been taken to Kabul and Gardez," Mohammad Amin Hozaifa, information and culture director of Paktika, told media.
The death toll climbed steadily all day as news of casualties filtered in from hard-to-reach areas in the mountains, and the country's supreme leader, Hibatullah Akhundzada, warned it would likely rise further.
Earlier, a tribal leader from Paktika said survivors and rescuers were scrambling to help those affected.
Photographs and video clips posted on social media showed scores of badly damaged mud houses in remote rural areas. Some footage showed local residents loading victims into a military helicopter.
Adding to the challenge for Afghan authorities is recent flooding in many regions, which the disaster agency said had killed 11, injured 50 and blocked stretches of highway.
Wednesday's quake was the deadliest since 2002. According to USGS, the earthquake occurred at 1:54am (PST), about 44 km (27 miles) from the city of Khost, near the Pakistan-Afghanistan border, at a depth of 51 km.

Meanwhile, Pakistan Army has taken urgent measures for the earthquake affectees in Afghanistan .
The military has set up a free medical camp for the quake-hit people in Dubai, Paktika, while free-of-charge ration has also been arranged for the families in need.
The Pakistan Army has also established a temporary gate for the burial of those belonging to the Madakhel tribe, at the Alwara Mandi.
The forces have also provided two helicopters to transport the critically injured to the hospitals, while a special entry system has been set up for quake affectees at the Ghulan Kham border.
Earlier, Chairman Joint Chief of Staff Committee (CJCSC) General Nadeem Raza and all services chiefs expressed condolences on the loss of lives to the earthquake and torrential floods, with the army assuring all-out assistance for the affectees.