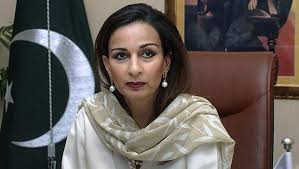 By Muhammad Luqman
Senator Sherry Rehman belonging to left leaning Pakistan Peoples Party (PPP) has been elected as the leader of the opposition in the upper house of the parliament, Senate.
The election makes Rehman the first woman in the nation's history to hold the post. Sherry Rehman's office confirmed the news in a tweet.
"I would like to thank Chairman PPP Bilawal, co-chairman Asif Ali Zardari and party peers on this occasion. Congratulations to everyone! I would also like to thank the Fata group, the Awami National Party (ANP) and others who pledged support. The PPP wants everyone to work in unison to ensure the Senate continues to deliver,"  Rehman said in a video message.
PPP chairman Bilawal Bhutto Zardari had earlier, in a tweet, hoped that the party vice president would make history by becoming the first-ever woman to lead the opposition in Senate.
The Pakistan Tehreek-e-Insaf (PTI) of former Cricketer, Imran Khan had challenged the nomination of the PPP candidate, terming it a violation of the defined rules.
58-years old Sherry Rehman had been Pakistan's Ambassador to the United States from 2011 to 2013.
Born in Karachi, Rehman received her B.A from Smith College and her M.A in art history from the University of Sussex. In 1988, she joined the Herald as its editor and remained with the magazine until 1999. In 2002, she started her political career with election to a seat of the lower house, National Assembly.  She was re-elected in 2008, and became a member of the Federal Cabinet under Prime Minister Gillani as the Minister for Information.
This is the third major development  in Pakistan's democratic history in a period of just one month after the election of first senator from the low-caste Hindu community, Krishna Kumari and  election of Chairman from the Balochistan, the strategic South-Western province of Balochistan.