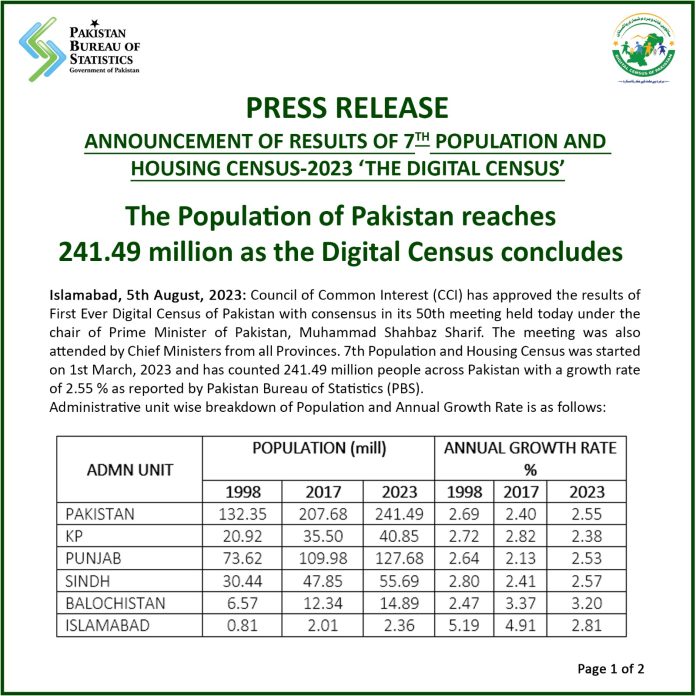 Web Desk
Pakistan's population has surged to 241.49 million with a growth rate of 2.55%, according to the digital census conducted in 2023.
The figure was released after Council of Common Interest (CCI) meeting on Saturday approved the results of first ever digital census of Pakistan with consensus in its 50th meeting under the chair of Prime Minister Shahbaz Sharif.
The meeting was also attended by chief ministers from all provinces. The 7th population and housing Census was started on 1st March, 2023 and has counted 241.49 million people across Pakistan with a growth rate of 2.55 % as reported by Pakistan Bureau of Statistics (PBS), read an official statement issued by Prime Minister's Office.
The official statement said the historical milestone of conducting first-ever digital census was achieved by the PBS as stakeholders completed the task "with challenging timelines".

All the structures of Pakistan have been geo-tagged during the first digital census, the statement added.
The 7th Population and Housing Census is historic, the official statement said as this "largest" digitisation exercise of South Asia was planned in shortest span of time i.e. just 18 months.
The census has also provided an economic frame to determine the size of economic clusters across the country.
As per the results of the new census, in the last six years, the Pakistani population has registered an increase of 35 million. Punjab's population now stands at 127.68 million, Sindh 55.69 million, Khyber Pakhtunkhwa 40.85 million, Balochistan 14.89 million and Islamabad 2.36 million.
Balochistan has recorded the highest annual population growth with 3.2 percent, followed by Sindh with 2.57 percent, Punjab 2.53 percent and KP 2.38 percent.

"All our national institutions and provincial governments will have to take urgent steps to arrest population growth," the prime minister said after approving the census results, adding that Pakistan would face poverty and unemployment if the current trend in the population growth continued.