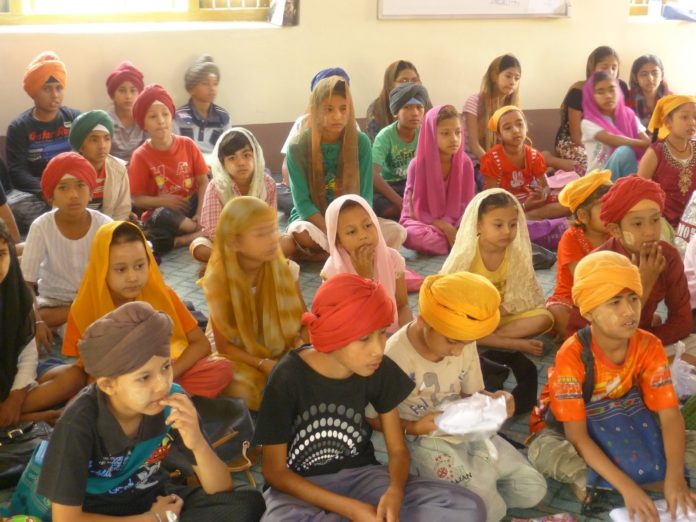 In Lahore's upscale Gulberg district, Bishan Singh has been earning handsomely from his cloth trade in a manner that brings him both recognition and money.
His business success has seen Singh double his fortunes in just five years. His professional courtesy attracts more and more customers.
"I have never experienced any discrimination on part of any customer on religious grounds," he says.
Over the last decade, dozens of Sikh families have migrated from Khyber Pakhtunkhawa, tribal areas and Central Punjab's Nankana Sahib District to the bustling Punjab metropolis Lahore, a greener pasture. This week Sikhs across South Asia and elsewhere  celebrated Vaisakhi or Baisakhi harvest festival, which also marks the beginning of the new solar year and coincides with Spring season.
A number of Sikh shopkeepers are thriving in the wholesale markets including Akbari Mandi, Azam Cloth Market and Shah Alam Market in Lahore and Moti Bazaar of Rawalpindi.
Clinics of Sikh physicians practicing herbal medicine are also mushrooming in several large cities of Punjab and Khyber Pakhtunkhawa.
It is also believed that Sikhs with better entrepreneurship are also fast spreading their businesses in Lahore.
Besides business, Sikhs are now joining the ranks of Pakistan Army, Rangers and Police. Amarjit Singh, a Sikh Jawan sporting colourful turban, becomes a source of attraction while performing lowering ceremony of Pakistani flag as a part of Pakistan Rangers contingent at India-Pakistan Joint Check Post Wagha in the evening.
In the recent past, Ghulab Singh, a warden used to regulate the unruly traffic in Lahore.
In 2013 general elections, Sardar Ramesh Singh Arora, a Sikh from Nankana Sahib was elected minority member of the Punjab Assembly. He is the first Sikh parliamentarian returned to  provincial legislative assembly in Pakistan's 70 year history.
Just before three decades, local Sikhs were hardly a visible presence on the streets and bazaars of Lahore – the cultural heart of the country – and other parts of the Punjab province. A majority of the Sikh population living in the areas now part of Pakistan migrated to Indian Punjab and even beyond in 1947. Sikhs living in the Khyber Pakhtunkhawa and some areas of Punjab started becoming active members of the mainstream Pakistani society in 1980s after a long period of hibernation.
During the 1990s, a number of non-functional Sikh Gurdwaras (temples) including Sucha Saudi Gurdwara in Sheikhupura district were restored to facilitate the local and foreign Sikhs.
Estimates say the total population of Sikhs in Pakistan is no more than 20,000. Of this, more than half live in Khyber Pakhtunkhawa, FATA, Sindh and Balochistan while 6,000 live in Nankana Sahib District while the rest live in Lahore and other districts of Punjab.
Due to peculiar security conditions in tribal area and certain Khyber Pakhtunkhawa districts, hundreds of Sikhs have now settled in Rawalpindi and Lahore. These Sikhs are now running businesses mainly merchandise. To facilitate the children of Sikh families, Punjabi language is also taught in Gurmukhi script in Nankana Sahib. Federal government and provincial governments have recently taken a lot of steps to improve the roads linking Nankana Sahib, the home to Sikhdom's holiest places like Gurdwara Janam Asthan to Lahore. Guru Nanak University is also being set up in this central Punjab town.
Pakistan Gurdwara Parbandhak Committee (Pakistan Gurdwara Management Committee) is also being restructured to ensure the participation of each and every segment of Sikh community living in Pakistan. Members of  the Sikh community believe that they would co-exist with their Muslim compatriots the way they used to live in the past.