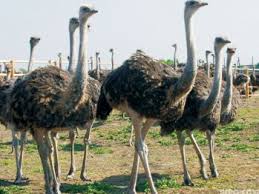 Raja Tahir Latif, who has pioneered ostrich farming in Pakistan, has ultimately been able to create a niche market for the meat of flightless bird in this part of the world.
The opening of the first ostrich meat outlet in Lahore's middle income neighborhood, Township, has created a new opportunity for him.
More and more Lahorites are turning to the new kind of meat despite the fact that it is much costlier than beef, mutton and chicken.
"The introductory price of the ostrich meat is Rs 1500 (US $ 15) per kilogram. We have got an overwhelming response from the people," a beaming Latif says, as Lahoris seek to add a new cuisine to their list of delicious food..
He introduced the concept of ostrich farming in Pakistan almost a decade ago by setting up farms in Raiwind near Lahore and Chakwal near the capital, Islamabad.
Now years later, taking ostrich business as lucrative, more and more entrepreneurs are setting up farms in the country, mainly in Punjab and Sindh provinces.
Around 200 farms are dotted across the central and southern parts of the country. The beautiful bird chicks are imported from South Africa and reared at these farms.
South Africa is considered the home of ostrich in the world. But with the popularity of its meat, its farming is now being done in countries almost all over the world, mainly in China, Taiwan, India, Japan, Vietnam, Iran, Iraq, Israel, United Kingdom, France, Mexico, Brazil, Costa Rice and lately in Pakistan.
A mature ostrich is six to nine feet tall, weighing between 90 and 160 kilogram. The birds are born with black and white striped feathers but are tan, brown, and black as adults. This way, an adult ostrich is heavier than any goat or sheep. Its meat tastes like mutton and even some times that of deer.
"An ostrich has life expectancy of 50 to 75 years but it is better to slaughter at tender age of one or two years as the meat of older bird gets too hard to cook," says Younis Qureshi, an aviculturist.
As ostrich is primarily a desert bird, Pakistan's climatic conditions, with extreme summer and winter, are ideal for its farming.There is a great demand for ostrich meat and leather in Iran, United Arab Emirates, Central Asia and Korea, the farmers may seek export avenues too.
According to tanners, ostrich Leather is third strongest and most precious leather of the world after those of the crocodiles and snakes. It is widely used in entire world to manufacture best quality leather products including shoes, brief cases, book covers, valets, belts, and purses.
Feathers of a slaughtered bird can also fetch a huge money to the farmer as these are used in manufacturing beautiful dresses and hats for super models and well to do ladies.
As the ostrich farming is quite expensive business, the government of Punjab, the central province of Pakistan, has recently launched a scheme for promotion of ostrich farming. Under the incentive package for the ostrich farmers, the provincial government is providing an assistance of Rs 10,000 per ostrich bird to promote protein rich, low-fat meat and economic uplift of farmers in Punjab. Initially, 5,000 ostrich birds will be registered for the purpose.
But the recent imposition of General Sales Tax by the federal government on the import of the Ostrich chicks has started hurting the nascent ostrich farming sector in Pakistan. The farmers fear that the tax will add to the cost of the doing business, ultimately resulting in the price of the end products like meat.
Aviculture experts believe that the ostrich farming has lent an opportunity to Pakistan's agriculture sector to grow at a faster pace as there is a great demand for this delicacy in the food-deficient regions of Middle East and Central Asia.
"We need to capitalize on this opportunity as exports can fetch millions of dollars to our foreign exchange-starved country," says Dr. Talat Naseer Pasha, Vice Chancellor, University of Veterinary and Animal Sciences (UVAS).
Meanwhile, as owners lit up their restaurants in Lahore's food markets in the evening, Lahorites are looking for newer dishes of the ostrich meat.