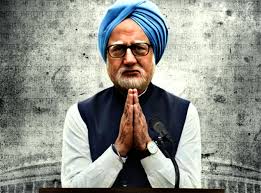 By Muhammad Luqman
The Bollywood,s latest political flick , The Accidental Prime Minister will be screened in Pakistan's cinemas from January 18 (Friday) as country's censor board has given a green signal.
According  media reports, the film centered around the term served by India's former Prime Minister Manmohan Singh has been cleared for release on this side of the border.
"The film has been cleared with minor excisions," Danyal Gillani, the Chairman Pakistan Film Censor Board was quoted by Indian media.
The film's presenter Pen's official, Jayantilal Gada expressed his gratitude to Prime Minister Imran Khan for the clearance stating: "PEN Studios is happy to announce that our one-of-a-kind political film, 'The Accidental Prime Minister', has got a green signal from Pakistan. Pakistani movie-goers will be able to enjoy the film. I always admired Imran Khan as a brave cricketer, and now I respect him as a Prime Minister too."
Based on the book of the same name by ex-media adviser of former Prime Minister Manmohan Singh, Sanjaya Baru, ' The Accidental Prime Minister' starring Anupam Kher and Akshaye Khanna in the lead roles is struggling at the box office in India. Debutant director Vijay Ratnakar Gutte's political drama has failed to impress the audience apart from all the likelihood of the cast to real-life politicians which prompted the audience to watch the film. The film which released on January 11 sees Anupam Kher reprising the role of former PM Manmohan Singh.
The film, according to Indian media, has been at the receiving end of backslash for allegedly attacking the opposition Congress party in the run-up to the 2019 Indian General elections scheduled in May. The film also claims that the then-Congress president Sonia Gandhi controlled the functioning of the Prime Minister's Office during the two-term tenure of former PM Dr. Manmohan Singh. The film also portrays the former PM in a negative light.