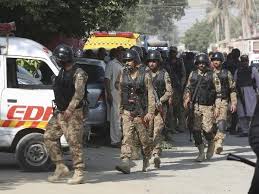 By Muhammad Luqman
Security forces on Friday  foiled a terrorist attack on the Chinese Consulate in Pakistan's port city of Karachi
Two policemen, Assistant Sub Inspector Ashraf Dawood and Constable Amir, were killed  and a security guard injured as three gunmen tried to enter the consulate building in upscale locality of Clifton.
Two visa applicants from Southern Pakistan city of  Quetta, a father and son identified as Niaz Muhammad and Muhammad Zahir Shah, also lost their lives in the attack.
The terrorists were trying to enter the consulate from the visa issuance section but were intercepted by security personnel at a checkpoint. According to media reports, the terrorists detonated a hand grenade before opening gunfire.
Sindh Police and Inter-Services Public Relations (ISPR) confirmed that all three terrorists had been killed in the operation, according to Geo TV.
"They [terrorists] had hand grenades and SMGs. They wanted to make their way inside [the consulate]. One was neutralised outside, the other two were neutralised in the ensuing operation by police and Rangers which lasted for 30-35 minutes," Inspector General Sindh Police Kaleem Imam told reporters.
Suicide jackets, hand grenades, Kalashnikov bullets, magazines and explosives were recovered from the terrorists, police said. "Food supplies and medicines were also recovered from their possession," officials added.
According to TV reports, the terrorists had been identified as Razzaq, a resident of Kharan, Azal Khan Mari alias Sangat Dada, and Raees Baloch.
Heavy contingents of police and Rangers were deployed at the site of incident and roads leading to the consulate were cordoned off.
Speaking to media, DG Rangers Sindh said the attack was foiled owing to the timely action by police, Rangers, law enforcement agencies and FC personnel deployed outside the consulate. "The search operation has been completed and all diplomatic staff are safe," he added.
Pakistan's foreign minister , Shah Mehmood Qureshi  has said that the terrorists wanted to create a hostage situation but their plan was foiled. "There were about 21 Chinese staff members at the consulate and they are all safe and shifted to a safe location," Qureshi told the National Assembly.
According to media reports, Baloch separatist organization, BLA has claimed the responsibility for the attack.
Pakistan's Prime Minister Imran Khan has  ordered an immediate inquiry into  the attack. In a tweet, the prime minister said, "The failed attack against the Chinese consulate was clearly a reaction to the unprecedented trade agreements that resulted from our trip to China."
He added that the aim of the attack was to scare Chinese investors and undermine CPEC. "These terrorists will not succeed," the prime minister tweeted.