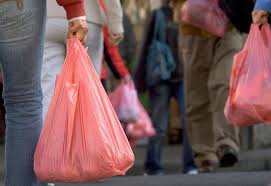 By Muhammad Luqman
Just a couple of decades ago, people in Pakistan used to carry cloth bag while shopping grocery. Very few people opted for plastic bags to put eatables especially green grocery . This was not out of any environmental concerns but due to centuries long cultural and social values. But adoption of international packaging trends have changed situation in this South Asian country a lot. Polythene bags have emerged as the leading packaging material. According to a report recently presented in Senate, the upper house of Pakistan,s parliament, over 55 billion plastic bags are used in the country every year. The use is increasing by 15 percent per annum.
The demand for the polythene bags has led to establishment of over 8000 production units , mainly in the central province of Punjab. These employ about a million people directly or indirectly.
About 80 percent production is not bio-degradable. So a single bag's decay may take several decades, thus contributing to the solid waste pollution to a great extent. Only 20 percent polythene bag production is degradable . Such a bags are being produced for country's cash and carry stores by adding such a chemicals that lead to decomposition of bags within weeks.
" We are using D2W brand additive that helps biodegrade the bag after certain time; But this technology has been adopted by very few plastic units in Pakistan," says Lahore-based plastic bags manufacturer.
The non-biodegradable polythene bags are not only leading to chocking of drains but also considered responsible for myriad of human diseases mainly cancer. The situation has gone worse after the beginning of use of plastic bags for carrying cooked food like rice, curry and even yogurt.
The open burning of the plastic bags at dump sites generates nitrogen oxides and sulphur oxides, responsible for causing serious diseases.
In addition to threats to human health, the unabated use of the plastic bags has been a source of damage to the soil fertility, mainly in the province of Punjab.
"When dumped in the earth, the plastic bags cause decrease in the fertility of the soil, affecting the productivity of crops." Says Dr. Javed Akhtar, the agriculture environmentalist at University of Agriculture Faisalabad.
The dumping of the plastic bags into the water bodies like canals , rivers and seas is also a source of concern for the environmentalists as it may cause damage to the aquatic life.
According to some WWF estimates, in 2050 there will be more plastic than fish in the seas. This is alarming but in spite of that the rampant use of plastics is yet in practice. It is not only causing environmental pollution but also putting our life in danger. The rampant use of bottled water has also promoted plastic culture in this part of the world. These bottled when not disposed properly, pose a serious threat to the environment. According to a study, around the world, 1 million plastic drinking bottles are purchased every minute.
To counter the ill-effects of the plastic bags and other products, Pakistan will have to take steps on both supply and demand sides. Otherwise, plastic induced pollution would drastically affect the environment in Pakistan.