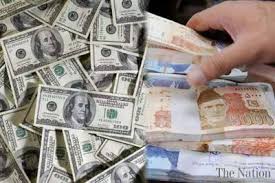 By Muhammad Luqman
Pakistani rupee further lost its value by Rs1.89 against the US dollar on Thursday, and reached all time low of Rs164.5 against green back in the interbank market.
In the open market, the greenback was traded at Rs164.25 after an increase of Rs 1.25 . Within just two days, the devaluation of the Pakistani currency has been recorded to more than Rs7.
The massive fresh devaluation of rupee has been observed despite assurance of the new governor of the State Bank of Pakistan (SBP) Governor Reza Baqir recently that there would be no free-float in the market as it was not suitable to the country's economy.
However, on Wednesday, the value of the US dollar against the rupee touched another historical high as the greenback hit Rs162.16 in the interbank market and Rs. 164.25 on Thursday.
The unprecedented hike in the value of the US dollar has raised fears that prices of essential commodities, particularly imported products, would shoot up.
Since the start of this month, the rupee has been devalued by Rs16.42 that in turn has raised Pakistan's external debt by more than Rs1,400 billion.
According to financial experts, the government must ensure implementation of its stated economic policies after the deal with the International Monetary Fund (IMF). It is anticipated that the US dollar rate would fluctuate for some time, and the value of the Pakistani rupee would stabilise after proper implementation of the economic policies.
Last week, State Bank of Pakistan (SBP) Governor Reza Baqir held a press conference in Karachi, and took businessmen and investors into confidence that Pakistan had accepted all conditions of the International Monetary Fund (IMF), and expressed hope that the global moneylender would approve the bailout to Pakistan on July 3.
Pakistani businessmen especially the importers have appealed to Prime Minister Imran Khan to stall the slide of the Pakistan rupee vis-a-vis US dollar.
" It is never too late. Central Bank has the ability to stop the downslide of the rupee in the interests of Pakistan and its people," President of Lahore Chamber of Commerce and Industry, Almas Hyder said.