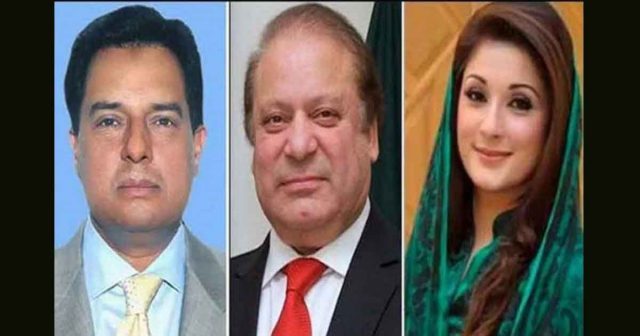 By Muhammad Luqman
A Pakistani court has ordered the release of the  former prime minister Nawaz Sharif , his daughter Maryam and son in law from jail while suspending the imprisonment till the decision of their appeals against the sentence in a graft case.
All the three were released from the Adiala Jail in Rawalpindi on Wednesday evening and flown to Lahore, the eastern city of Pakistan.
The Islamabad high court suspended the Sharifs' sentences while their appeal was heard against a corruption conviction .  Nawaz  Sharif  had been due to serve 11 years in prison, Maryam eight, and her husband, Muhammad Safdar , one.
During the hearing of the appeals against the National Accountability Court sentence, Justice Athar Minallah observed that  prosecutors had failed to bring any evidence of Nawaz Sharif's ownership of the Avenfield apartments in the British capital, London, and wanted the court to keep him jailed "on mere presumption".
Leaders of the Pakistan Muslim League-Nawaz (PML-N), the party founded by the three-time prime minister Sharif,  have welcomed the court's  decision.
The PML-N claims that the imprisonment of the Sharifs shortly before the election on 25 July was politically motivated.
The original verdict was said by critics to have relied heavily on the rules of the National Accountability Bureau, an anti-corruption court in which defendants are assumed guilty unless proven otherwise, according to media reports.
The Sharif family maintains that a Qatari prince gifted the property to Nawaz's children to repay an old debt.
The Sharif family had returned to prison on Sunday after a five-day parole to attend the funeral of Nawaz's wife, Kulsoom who had died at  a London hospital on September 11.
Nawaz Sharif was sentenced in July after being found guilty of corrupt practices related to the ownership of four luxury properties in central London linked to his family.
The three-time prime minister was ousted from power a year earlier by Pakistan's Supreme Court, after his children were linked to offshore companies in the Panama Papers leaks of 2015.
Their convictions remain under appeal within the top court, but a date for a hearing has yet to be fixed.
National Accountability Bureau (NAB), the anti-graft body that launched the case, can still appeal to the Supreme Court against the latest ruling.