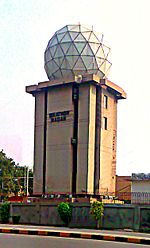 By Muhammad Luqman
Meteorological Department has predicted a rains over upper parts of Pakistan next week, capping the cold and dry spell presently gripping most of the South Asian country.
"A westerly wave is expected to start penetrating the country from Sunday evening," according to a statement of PMD.
It said the thundershowers coupled with strong winds are expected to begin on Monday and last until Wednesday. The Met Office also forecast snowfall in Murree and Galiyat on Monday and Tuesday. "Rain-thunderstorm with snowfall over the hills is expected at scattered places in Islamabad, Punjab, Gilgit-Baltistan and Azad Jammu and Kashmir from Monday to Wednesday.
Rains may lasht isolated places in northeast Balochistan and Sindh on Sunday and Monday and in Khyber Pakhtunkhwa and Fata from Sunday to Tuesday.
Meteorological Department has also forecast snowfall over the hills.