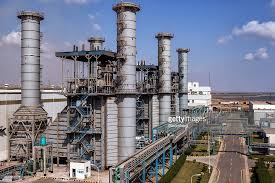 By Muhammad Luqman
Pakistan's Prime Minister Shahid Khaqan Abbasi has laid the foundation stone of a power plant in Jhang that will make the South Asian country free from energy woes in next 18 months.
The 1,263 Megawatt LNG (Liquefied natural gas) power plant will be constructed near the Trimmu Barrage and its estimated cost is USD800 million, according to Pakistan's Energy Ministry.
The project is being funded by China and Punjab government and is expected to be completed in 26 months, however, it will start power generation of 810 MW within 14 months.
Addressing the ground breaking ceremony, Prime Minister Abbasi said that upcoming general elections will be held on time and they will be reflective of the decision of the masses.
"In June, the ruling PML-N will complete its tenure after which elections will be held," he said .
The prime minister said that Pakistan Muslim League-Nawaz (PML-N) is the only party which wants elections to be held on time.
Hailing the role of Shehbaz Sharif for the rapid completion of the different development projects in the province, he said that the Punjab CM has played an integral role in the materialising of the development projects.
Abbasi said that load shedding has ended in the majority of the cities, adding that load shedding only occurs in places where electricity theft is common.
"No one can complain that PML-N differentiated between provinces," said the PM. "We have learned politics from Nawaz Sharif Sahab who never put down his political opponents even during party's internal politics," he added.
Speaking about the country's political landscape, the PM said that these days many political alliances are being formed.
Taking a dig at the alliances, he said: "if you add zero to zero, then you still get zero." The prime minister was referring to the meeting between Pakistan People's Party (PPP) Co-Chairman Asif Ali Zardari and Pakistan Awami Tehreek (PAT) chief Tahirul Qadri.
The unprecedented alliance between the two parties demanded the Shehbaz Sharif's resignation in the wake of Model Town enquiry report being made public.
Abbasi said that CPEC could have been initiated during the tenure of PPP, adding that CPEC came during the tenure of PML-N because of the trust of the people.