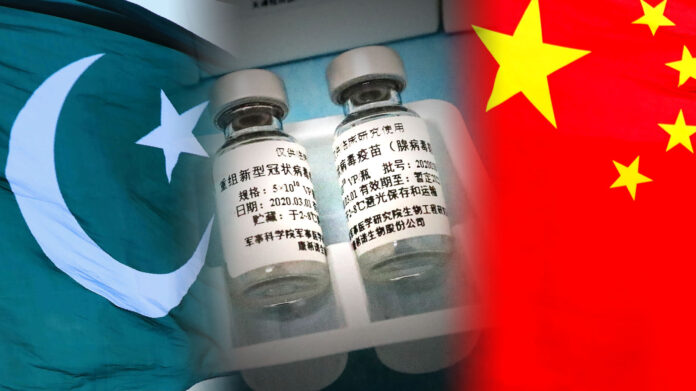 Web Desk
Foreign Minister Shah Mehmood Qureshi has said that that China has promised to provide 500,000 doses of a coronavirus vaccine to Pakistan by January 31.
In a video message after a phone call with his Chinese counterpart Wang Yi, Qureshi said China offered Islamabad to send an airplane and airlift the vaccines.
The minister said he held a detailed conversation with the Chinese foreign minister in which he "discussed Pakistan's requirements", after Prime Minister Imran Khan had directed him to increase interaction with Beijing "considering the sensitivity of the situation".
"I want to give the nation the good news that China has promised to immediately provide 500,000 doses of vaccine to Pakistan by January 31," he said.
"They (China) have said you can send your airplane and immediately airlift this drug," he added, saying the development would "help save many lives" in Pakistan.
In a tweet, Qureshi suggested the doses to be provided to Pakistan will be of the Sinopharm vaccine, which the Drug Regulatory Authority of Pakistan (Drap) had approved for emergency use in the country earlier this week.
China has played an instrumental role in Pakistan's fight against #COVID19 with technical assistance and medical expertise.
🇵🇰 🇨🇳 #IronBrothers https://t.co/UsKaxJitBE

— Shah Mahmood Qureshi (@SMQureshiPTI) January 21, 2021
"With encouraging results of Chinese vaccine and our historic relationship, Pakistan has approved emergency use authorisation of SinoPharm [vaccine]. Indeed Pakistan greatly appreciates the 500,000 doses of the vaccine gifted by China," he wrote.
The vaccine was developed by the Beijing Institute of Biological Products, a subsidiary of state-owned conglomerate Sinopharm. The company announced last month that preliminary data from last-stage trials had shown it to be 79.3 per cent effective.
But Qureshi said he informed his Chinese counterpart that Pakistan's requirement for vaccines is "more than this", and that it will need 1.1 million doses in the near future.
"At this, [the Chinese foreign minister] said 'we plan to fulfil this requirement of yours as well by the end of February and the 1.1m doses will be made available to you,'" he revealed in the video message.
China had decided to work for the "global public good" in the context of Covid-19, Qureshi said, adding that Foreign Minister Wang told him the first country they thought of to assist was Pakistan keeping in view "the all-weather strategic relationship" between the two countries.
"We want to assure Pakistan that our cooperation with you will continue," the minister quoted Wang as saying.
Qureshi also said he and Foreign Minister Wang had discussed that trials of Chinese firm CanSino's vaccine in Pakistan were successfully moving forward and their results had been "quite encouraging".
"Pakistan has a huge population […] in order to fulfil its needs, we also discussed whether we can move forward together for this (CanSino) vaccine's production and manufacturing in Pakistan after the completion of the new trials," he said, adding that his Chinese counterpart had agreed to the proposal.
The minister said the first batch arriving in Pakistan would be "grant assistance" for which the country would not have to pay anything. "This is a hand of goodwill and friendship that China has extended towards us and I am grateful to them," he added.
According to English newspaper, Daily Dawn, Pakistan has so far approved two vaccines for emergency use, the other being the Oxford-AstraZeneca jab.