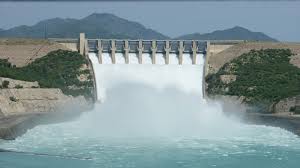 By Muhammad Luqman
Pakistan is forced to throw water worth US $ 21 billion into Arabian sea every year due to insufficient water storage facilities , Indus River System Authority (Irsa) told the Senate Forum for Policy Research on Thursday.
Pakistan has only two major water reservoirs –one each over river Indus and river Jhelum with a storage capacity to meet only 30-day needs of irrigation and hydel water generation.
In a meeting of the forum, chaired by Nayyar Husain Bukhari, members of Irsa and the Pakistan Council of Research in Water Resources (PCRWR) made shocking revelations .
"The country needs three Mangla-sized dams to conserve the amount of water that goes to sea each year," Irsa members told the meeting while informing them that Pakistan faces a 36 per cent shortage in its water requirements of Rabi (winter) season.
If no water reservoirs are made, the country faces an extreme water shortage in the coming years, Irsa members said as they endorsed the long-overdue creation of the Kalabagh Dam.
Pakistan can only store up to 30 days' worth of water, while India can store up to 320 days' worth, Irsa members informed the meeting while stressing upon the need for more reservoirs in the country.
"Kalabagh dam can be completed in five years," a PCRWR member said, but told officials that the Akhoori Dam can also be developed as an alternative to Kalabagh.
The inflow of rivers Indus, Chenab, Kabul and Jehlum has dropped and as a result, this year's crop may be severely affected, Irsa members informed the meeting.
Water levels in Islamabad are falling by one metre each year and six metres in Balochistan, Irsa officials warned the officials. PCRWR members warned that out of 43 lakes in Pakistan, the levels of 26 have dropped drastically in the past few years, while the country remains without a National Water Policy.