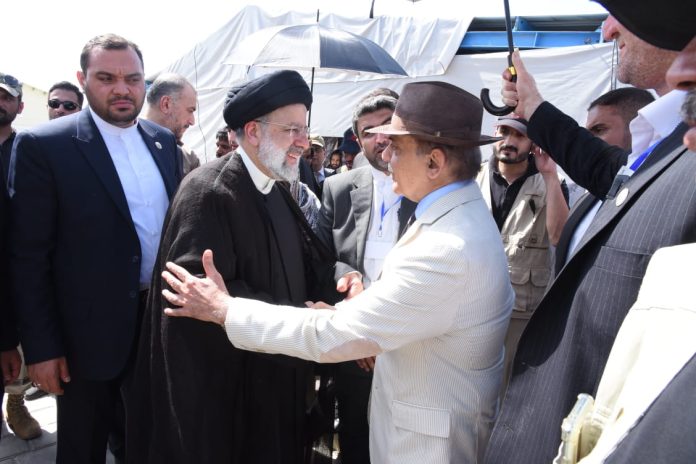 Web Desk
Prime Minister Shehbaz Sharif on Thursday announced that Iran will supply 100 megawatts of electricity daily to Balochistan's Gwadar once the Polan-Gabd electricity transmission line project becomes functional.
The prime minister made the announcement at a media briefing after he and Iranian President Seyed Ebrahim Raisi inaugurated the transmission line project and a marketplace at the Mand-Pishin border crossing point.
Official news agency, APP reported that the line will play a pivotal role in meeting the energy needs of the region — including households and businesses — by bringing in an additional 100MW of electricity from Iran.
Separately, in an interview with Iran's official news agency IRNA, the premier stressed the importance of enhanced cooperation with Iran, saying the energy projects and border markets were emblematic of the vitality of Pakistan-Iran friendship.
The prime minister said Pakistan and Iran were brotherly countries bound by deep-rooted religious, cultural, and linguistic ties. "Both our governments are collaborating closely for the betterment and socio-economic uplift of our peoples."

PM Shehbaz said the Mand-Pishin border marketplace and the Polan-Gabd electricity project were tangible manifestations of this resolve. They would also serve as a stepping stone for greater cooperation between our two countries, especially in the economic domain, he added.
According to Information Minister Marriyum Aurangzeb, the project was pending since 2009 and was completed in a record time of four months under the leadership of PM Shehbaz.
She added that the project will unleash development, trade, business, and employment opportunities contributing to the future prosperity of the people of Gwadar and Balochistan.
The Mand-Pishin border sustenance market will provide a thriving platform for increasing cross-border trade, fostering economic growth, and opening up new avenues of opportunity for local businesses.
The premier was of the view that border markets would enhance trade and contribute to the development of the two nations.
This is one of the six border markets which will be constructed along the Pak-Iran common border.
PM Shehbaz and President Raisi also planted a sapling on the premises of the border market as a gesture to stride forward in the bilateral relationship between the two countries.
Pakistan and Iran also agreed to accelerate work on Free Trade Agreement (FTA) between the two countries and finalise it at the earliest.
This was stated by Prime Minister Muhammad Shehbaz Sharif while speaking to the tribal elders and notables of the city of Gwadar .
The premier said he held a very constructive, positive, and fruitful meeting with Iran's Raisi, covering all issues of bilateral interests including trade and economy.
He added both sides agreed to enhance bilateral cooperation in trade, investment, information technology, agriculture, power, energy, and other sectors.
PM Shehbaz said he wanted to increase trade activities with the government of Iran to facilitate the people of both countries.

In a statement, the Foreign Office said "The joint inauguration is a manifestation of the strong commitment of Pakistan and Iran to uplift the welfare of residents of the neighboring provinces of Balochistan and Sistan-o-Baluchestan, respectively."