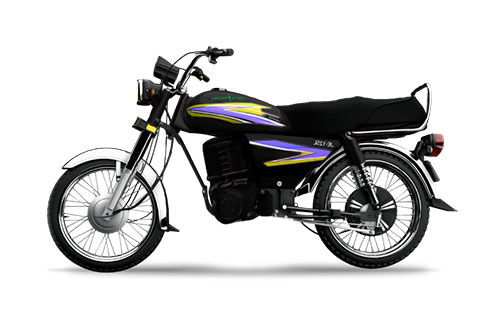 Web Desk
Locally assembled electric motor bikes have hit the roads of Pakistan, enabling the South Asian nation to join the exclusive club of electric vehicle manufacturing nations.
"We have introduced the JE-70 e-bike with our indigenously developed technology. No foreign funding, no joint venture with the Chinese or any country in the world," says Raheel Iqbal, Chief Executive Officer of Jolta Electric, the manufacturer of country's first licensed e-motorbike.
Last week, Prime Minister Imran Khan had launched Jolta's JE-70 model at a ceremony held in the capital, Islamabad. The locally developed e-bike is priced at Rs82,500 and has a maximum speed limit of 60 km per hour.
" The motorbike can even run at a speed of 80 kilometres per hour . But in the urban areas like Lahore, it may not exceed 60 kilometres due to rush on the roads," Raheel Iqbal said.
According to Engineering Development Board (EDB) of Pakistan's Industry of Production, more than 15 have expressed their willingness to carry out local assembly of e-bikes in the country.
Even a three-wheeler manfacturer, Sazgar Auto Industries, has been able to manufacture electric rickshaws (Pakistani version of tuc tuc) but this vehicle could not become popular due to a higher price i.e. Rs 400,000 as comared to Rs 250,000 of a conventional rickshaw.
" Electric vehicles can not become popular in Pakistan till the local manufacturing of batteries especially those of lithium ion type. It is a multi-billion dollar activity," says Mian Muhammad Ali Hameed, Chief Executive Officer of Sagar Auto Industries.
But the electric motor bike has received , according to e-Jolta company, an overwhelming response from new buyers.
" We are hopeful that the monthly production capacity will cross the figure of 6,000 units by December and later 10,000 in next five years," said Nauman Alvi, the production manager of e-bike company.
The industrialists believe that introduction of the electric vehicles will help Pakistan cut down its petrol import bill significantly that is presently a major source of trade deficit of the South Asian nation.
"The e-bike needs an overnight charging of 1.5 units at home which is sufficient for 80km ride. The bike will only cost Rs1,000 per month on consumers' wallet as compared to Rs4,000-5,000 on petrol-driven 70cc bike. An e-bike owner will save at least Rs4,000 per month," Raheel Iqbal claims.
The company plans to bring in four more models in the production line this year in addition to three-wheelers, loaders and heavy vehicles.
Currently, dry EV battery is being used which costs around Rs20,000 and has a life span of 2.5 years. However, the company is planning to shift to lithium batteries in other locally-assembled models in the next three to four months which would cost more.
Pakistan government's incentives like one per cent general sales tax and 1pc duty on electric specific parts have attracted a lot of interest among new investors. However, if the same low-priced bike is imported despite duty and tax incentives, it would carry a price tag of Rs100,000 as compared to Rs82,500 of JE-70.
In addition to the two wheelers and three wheeler, Moris Garrages (MG) electric cars have also touched Pakistani roads lately. But these are not produced locally but imported in Completely Built Up (CBU) form.
Pakistan government believes that the popuarlization of electric vehicles in Pakistan will help achieve the target turning the country into green and clean that is on the top of present government led by Prime Minister Imran Khan.