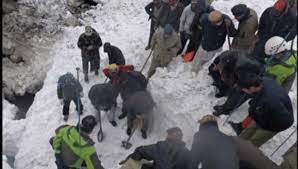 Web Desk
At least 11 people have been reported dead, and 13 others injured in a snow avalanche that hit Astore district in Pakistan's northern region of Gilgit Baltistan, according to media reports.
The incident took place at at Shounter Top Pass around 4pm on Friday.
"At the time of the incident, 25 people of Gujjar family […] were travelling along with [their] cattle from Kashmir to Astore and were hit by the avalanche," according to a report of Gilgit Baltistan Disaster Management Authority.
It added that a rescue operation was being conducted by Rescue 1122, the district administration and the local community for retrieving the remaining bodies.
Meanwhile, the GBDMA said, the 13 injured had been taken to District Headquarters (DHQ) Hospital Astore and 12 of them were in critical condition.
According to English newspaper, Daily Dawn, Deputy Inspector General of Police for Diamer-Astore Division , Tufail Mir has said that rescue teams were facing challenges in reaching the affected area due to its remote location and difficult terrain.
Furthermore, communication difficulties were also impeding the officials' efforts.
According to the GBDMA report, Force Command Northern Areas, a military formation of the Pakistan Army, provide helicopter service, relief items and paramedical staff to assist with the rescue operation, but they couldn't be flown "to the site due to bad weather conditions".
"Necessary relief items including tents and food packs, have been provided by GBDMA/ DDMA (district disaster management authority) and line agencies."
The report further stated that the district administration was closely monitoring the rescue operation while an emergency had been imposed in DHQ Hospital Astore, PHQ and RHQ Gilgit and Combined Military Hospital Skardu.
Prime Minister Shehbaz Sharif has expressed grief over the loss of lives in the incident.

In a tweet, he prayed for the victims and extended condolences to the bereaved.
The premier said such incidents were increasing in Pakistan due to climate change and urged the world "to fulfil its responsibility to protect developing countries like Pakistan against the effects [of climate change]."
GB Chief Minister Khalid Khurshid Khan also expressed deep sorrow over the loss of lives and instructed local authorities to initiate rescue operations.
He called upon the secretary interior, director general of GBDMA (Gilgit Baltistan Disaster Management Authority) and other officials to look into the incident immediately.