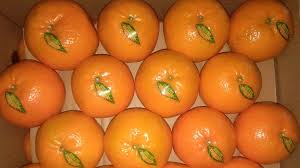 By Muhammad Luqman
Pakistan's kinnow exports would be lower by 50,000 tons in the current fiscal year compared to the previous year as the competitors in the international market were giving it a tough time, said Chief of All Pakistan Fruit and Vegetables Exporters Association, Waheed Ahmad.
"Old farming practices have led to deterioration in the quality of Pakistani fruits which, in turn, is making exporters less competitive in the international market,",Waheed Ahmad said.
Exports of kinnow from Pakistan have just commenced and exporters have set a target of 300,000 tons for the current season, which is expected to fetch $194 million in foreign exchange,.Of the expected production of 2.2 million tons, around 15-20% will be exported.
Most of the target export markets of Pakistani 'Kinnow' are those of developing countries. Only 2.6 percent of Kinnow exports target the markets of developed countries, which is due to the emerging demand for seedless Kinnow by the developed countries. About 61 percent of total world exports of oranges and mandarins are of seedless varieties.
Some important export markets for 'Kinnow' are:Iran, Bahrain, United Arab Emirates, Kuwait, Oman, Qatar, Saudi Arabia, Indonesia, Malaysia, Afghanistan, Netherlands, Philippines, Singapore, the United Kingdom, Russia and Vietnam. Indonesia has also offered market access to Kinnow, from Pakistan at zero per cent. Over 40% of the Pakistani exports of Kinnows went to Russia in 2015.
Waheed Ahmed said, due to the stiff competition in Russia, the exporters had to sell kinnows at a price lower than the actual shipment cost, which caused a loss of around $6 million.
"Keeping in mind the huge loss, the exporters have reduced the export target for the current season by 50,000 tons," said Ahmed. "Kinnow exporters from competing countries are given subsidies by their respective governments while Pakistani exporters can only wish for such privileges."
Exports of Kinnow to Iran discontinued nine years ago due to which Pakistan faced a yearly dent of $40 million in revenues as it had exported around 80,000-90,000 tons of kinnow to the neighbour annually.
He argued , if Iran could export tomatoes and other edible items to Pakistan, then why Pakistan could not ship kinnow.
"The season of citrus fruit is limited to four months, however, with the production of new varieties, it can be extended to eight months, which means exporters will have a longer time frame to export and increase the export volume," Ahmed said.