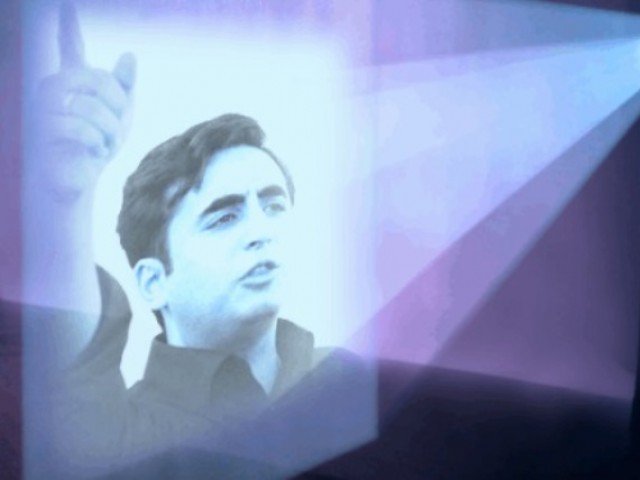 By Muhammad Luqman
Chairman of People's Party , Bilawal Bhutto Zardari is going to be first politician of Pakistan to embrace futuristic Hologram Technology to address the rallies in a virtual manner without being present in person.
The use of the technology will help minimize the security risks for the PPP leader in the country especially in the Punjab province. His mother, Benazir Bhutto was assassinated at a public rally in Rawalpindi, the twin city of capital Islamabad a decade ago.
The party's technology experts have successfully tested the 3D hologram system in mock sessions.
The first experiment of this new technology will be made on coming Sunday when he would be addressing the party workers simultaneously in 30 towns and cities. He would deliver a special message in connection with party's foundation day being observed on November 30.
In his recent public appearances in Lahore and other cities of Punjab, policemen and guards from Sindh were seen accompanying the PPP chief.
PPP Central Secretary Information Chaudhry Manzoor Ahmad has confirmed that the party would use the technology for small public gatherings of 2,500 or 3,000 people.
"Everywhere in the world, politicians ad business leaders are using such technologies for mass communication," says the PPP official.
With the help of this system, a life-size 3D hologram image of Bilawal can be broadcast right in front of the people.
Bilawal Bhutto is the second major politician in South Asia to embrace the technology after Indian Prime Minister Narendra Modi who made use of the 3-D hologram techniques during 2014 general elections.
The unique use of hologram technology had allowed Modi to make "appearances" at hundreds of campaign rallies (often simultaneously) in a way that felt more personal than typical "via satellite" feed. How hologram technology works. A projector is placed high above the stage to stream visuals to the stage floor, which is then reflected on the stage background, "This background is made of a special, almost transparent material that provides a 3D illusion."
It's believed that Modi was the first politician in South Asia to employ holograms in the political arena — at least to this extent. Even the tech-savvy President Obama somehow refrained from beaming his likeness across the United States during presidential clashes with John McCain and Mitt Romney.
Turkish Prime Minister Recep Tayyip Erdogan followed the suit of Narendra Modi. When Turk leader could couldn't attend a political party meeting in the city of Izmir in the recent past, he decided to send the next best thing: a giant hologram of himself.