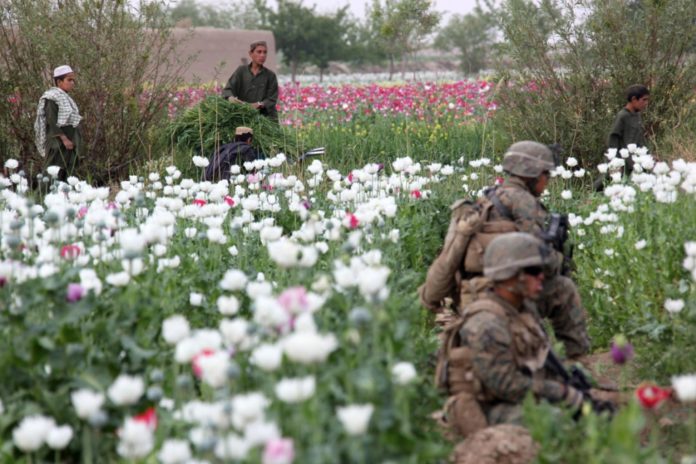 Afghanistan produces 80 to 90 percent of world's heroin
By Zyance (Own work) [GFDL (http://www.gnu.org/copyleft/fdl.html), CC-BY-SA-3.0 (http://creativecommons.org/licenses/by-sa/3.0/) or CC BY 2.5 (http://creativecommons.org/licenses/by/2.5)], via Wikimedia Commons
by           Muhammad Luqman October 21, 2016
Colombia's guerrilla Organization, FARC and Afghanistan's militant group Taliban are the biggest organizations, engaged in terror financing through slush money, obtained from drug trafficking, a US Counter Narcotics official said Friday.
"Afghan Talban are world's biggest heroin trafficking organization, peddling most of the heroin" produced in the war torn country, Ambassador William R. Brownfield, US Assistant Secretary for International Narcotics and Law Enforcement Affairs (INL) said during an interaction with Lahore-based journalists.
Afghanistan produces 80 to 90 percent of world's heroin, the drug produced from plant poppy, cultivated there in abundance despite the counter narcotics efforts by the United States and the international community.
Ambassador Brownfield said that very little heroin was being consumed in Afghanistan. About 25 percent of the drug was smuggled through northern route of Central Asia , another 25 percent through western route of Iran while 40 percent was still smuggled through Pakistan.
"Pakistan has been successful in cutting down the supplies of heroin by stopping poppy cultivation and heroin production on its soil over the last 30 years; But Afghanistan is still a challenge for the United States, Pakistan and other parts of the world," the US official said.
Though Pakistan has cut down the supplies, yet how to bring down the demand of the contraband in this part of the world is still a challenge. According to a study conducted by the United Nations, over 6.7 million Pakistanis are drug addicts of all sorts of opiates, cannabis and even cocaine, a drug of Latin American origin. Recent media reports suggest that a large percentage of college students in Pakistan's capital, Islamabad are drug addicts, becoming a source of concern for parents across the country.
Army backed Anti-Narcotics Force (ANF) has claimed successful raids on the dens of drug smugglers across Pakistan and seized thousands of tons of hashish, heroin and other contraband over the last one year. But it will not be possible to completely stop the demand unless the production in Afghanistan dries down.
The visiting US official said that he had talked to Pakistani officials on how to treat the drug addicts besides the establishment of rehab centers.
" We can't overcome the menace of drug addiction through criminal justice only. We have to engage entire society by sensitizing them," he said.
He said that INL supports programs that enhance the capacity of Pakistani women to preserve law and order, promote gender equality, and serve as role models in the justice system. These initiatives are accomplished through support for women serving in the law enforcement, justice, counter narcotics, and corrections sectors.
Ambassador Brownfield is visiting South and West Asia regions to discuss the ways to cut down the production of drugs in Afghanistan that has become a challenge for Afghanistan and other countries of the region.