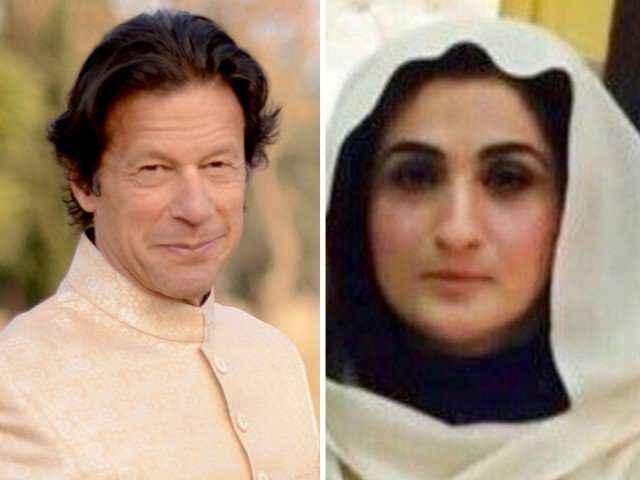 By Muhammad Luqman
Pakistan's opposition leader, Imran Khan has tied the knot for the third time, Pakistan Tehreek-e-Insaf, the political party he heads confirmed on Sunday.
The wedding with Bushra Wattoo, a  spiritual healer from central Pakistan district of Pakpattan, was solemnized in Lahore, the party's spokesperson Fawad Chaudhary said.
Only close relatives and friends participated in the ceremony — Khan's sisters, however, were not in attendance. Mufti Saeed performed the nikah in the presence of Awn Chaudhary and Zulfi Bukhari who appeared as witnesses.
According to media reports, Bushra Wattoo is in her 40s, and belongs to the Wattoo clan, of which the Manekas are a sub-clan. Earlier, she was married to Khawar Farid Maneka, a senior customs official in Islamabad  and is mother of five children. She parted ways with Khawar Maneka a couple of months ago.
On January 3 earlier this year, the reporter of an English newspaper broke a news about the third marriage of Imran Khan and claimed that the marriage was solemnized with the lady Khan used visit for spiritual guidance. Media remained abuzz for several days with this story. But the party spokesman said that Khan had sent a marriage proposal and the lady had sought time to consult her family, especially her children, before making any decision.
The reports of marriage came true only after the PTI spokesman confirmed the marriage and released pictures of the ceremony on social media.
Imran Khan, the cricketer-turned-politician was previously married twice, but neither of his marriages lasted. Khan married Jemima Goldsmith, a British socialite, in 1995. The relationship ended in divorce in 2004. He then married journalist Reham Khan in 2015, but the marriage ended after just 10 months.