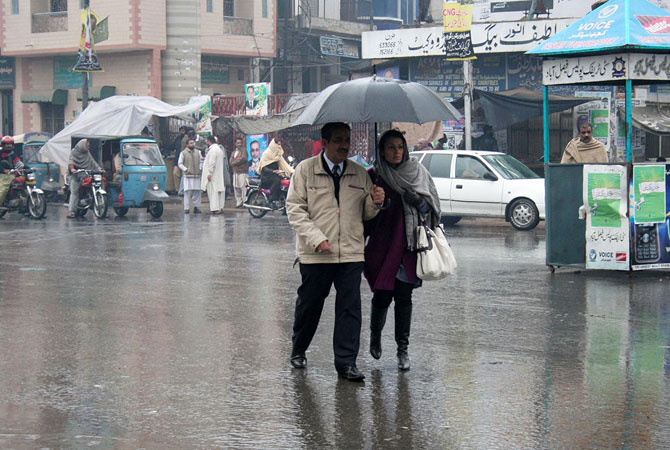 Weather Desk
Moderate to heavy rains lashed most of the parts of Pakistan's Punjab and Khyber Pakhtunkhawa provinces and Kashmir region on Sunday, capping about 50-day long dry spell that has been responsible for smoggy conditions in plains especially eastern city of Lahore.
The mercury fell to 16 degrees Celsius in Lahore after the heavy rain that lashed the city for couple of hours without any break. As a result,  the air quality index slipped down to below 200 level from the hazardous level of over 400.
Lahore and other central Pakistan areas have badly been affected by the smoggy conditions since the first week of November.
The Pakistan Meteorological Department (PMD) had predicted rains in Lahore for Sunday after showers and snowfall in Khyber-Pakhtunkhwa (KP) and the Northern Areas on Saturday.
Meteorologists believe that air quality conditions would further improve after significant dip in the mercury and rise in humidity above 50 per cent mark. Lahore is the worst affected by smog due to high number of smoke-emitting vehicles and burning of stubble in the nearby paddy -growing adjoining districts like Gujranwala, Kasur, Sheikhupura and Nankana Sahib. Smog persists when the temperature remains between 19 and 21 degrees Celsius mark with humidity under 30 per cent.
However, the experts believe that the relief from the from smog might be temporary as burning of paddy stubble in India's northern states of Punjab and Haryana coupled with fireworks activities there on the occasion of Hindu festival- Diwali may bring pollution to Pakistan with easterly winds.