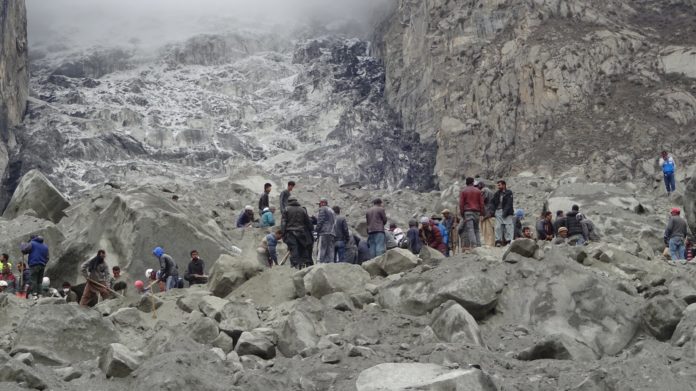 By Muhammad Luqman
Pakistan Army teams have rescued two British mountaineers stranded on Ultar Sar mountain in Hunza Valley after an avalanche hit their tent, according to media reports.
The injured mountaineers identified as Bruce Normand and Timothy Miller are en route Gilgit via an army helicopter.
"The body of Austrian mountaineer Christian Huber, who was killed in the incident, is also being taken to Gilgit," an official was quoted by media.
Later during the day, Director General Inter Services Public Relations (DG ISPR) Major-General Asif Ghafoor tweeted, "Pakistan Army pilots in a daring mission rescued three foreign mountaineers stuck in snow avalanche at above 19,000 feet on Ultar Sar Peak near Hunza."
"Bruce Normand and Timothy Miller from UK successfully rescued alive while Christian Huber from Austria had succumbed to avalanche," DG ISPR confirmed.
Efforts were under way since Saturday to rescue the two British mountaineers and bring back Huber's body after their tent was hit by an avalanche 5,900 metres up Ultar Sar mountain.
An army helicopter could not carry out a rescue operation on Saturday due to bad weather on the 7,388 metres high Ultar Sar.
Northern Pakistan is a magnet for mountaineers and is home to some of the tallest mountains in the world, including K2 — at 8,611 metres, the world's second highest peak, but often deemed a more challenging climb than the highest, Mount Everest.
Nestled between the western end of the Himalayas, the Hindu Kush mountains and the Karakoram range, Gilgit-Baltistan houses 18 of the world's 50 highest peaks.
It is also home to three of the world's seven longest glaciers outside the polar regions. Hundreds of its mountains have never been climbed.