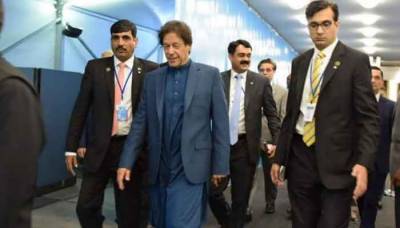 By Muhammad Luqman
Prime Minister Imran Khan and Foreign Minister Shah Mahmood Qureshi  have returned to Islamabad after wrapping up their trip to the United States to attend the 74th session of the United Nations General Assembly in New York.
According to English newspaper, Daily Dawn, banners and posters, some praising Imran Khan and others highlighting the plight of Kashmiris who remain under an India-imposed lockdown, were put up at the Islamabad airport and on the main thoroughfares in the city.
"First of all, I thank my nation. The way you prayed for me, for us, to be able to present Kashmir's case before the UN," Prime minister Imran Khan addressing the PTI workers at Islamabad Airport said.
"I especially thank Bushra bibi because she prayed a lot for us."
He asked the people to remember that Pakistan is standing with Kashmir. "Whether the world stands with Kashmiris or not, Pakistan is standing by them.
"And we are standing by them because we want to please Allah."
Speaking of the lockdown which has been in place since August 5 in occupied Kashmir, he said: "India has trapped eight million people under a curfew.
"I want to remind you that a struggle goes through highs and low. There are good times and bad times — ghabrana nahi hai (don't worry). Because Kashmiris are looking towards you, and God willing, they will win, they will get independence.
"All Kashmiris, their women and children, are looking to Pakistan and its people. We will expose this fascist Modi's government, this Muslim hating government, on every platform."
"I've said this before to you," said Prime Minister Imran: "Koshish insaan karta hai, kamyabi Allah deta hai (effort is made by man, success is given by God)."
First and foremost; I want to thank my nation. The way that you prayed for us, the way that you prayed that we can fight the case for Kashmir; going through a difficult time, at the U.N. @ImranKhanPTI #WelcomeHomePMIK pic.twitter.com/ZQZz1KzEND

— Tehreek-e-Insaf (@InsafPK) September 29, 2019
Earlier, senior leaders of PTI welcomed the premier and Foreign Minister Qureshi.
Among the first to greet the premier were Defence Minister Pervez Khattak, chief spokesperson Dr Firdous Ashiq Awan, senior leader Asad Umar and Sindh Governor Imran Ismail.
Ahead of the premier's arrival in Pakistan, Special Assistant to the Prime Minister on Information and Broadcasting Dr Awan had announced that members of the party and leaders would give a grand reception to the premier.
PTI leader Jahangir Khan Tareen had also called on people to give Prime Minister Imran a "hero's welcome", saying: "PM IK fought Kashmir's case like a true hero. His unequivocal speech at the UNGA helped transform Pakistan's image globally."
After Imran's maiden visit to the US as prime minister in July, he received a jubilant welcome by senior party leaders and PTI workers amid slogans and applause. His return had coincided with the first anniversary of the 2018 general election.