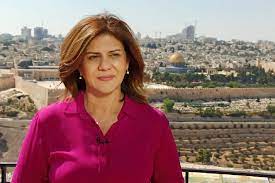 Web Desk
Pakistan has strongly condemned the killing of a Palestinian journalist, Shireen Abu Aqleh, who was shot dead while covering an Israeli raid in the Jenin refugee camp of occupied West Bank.
"The Government and people of Pakistan extend deepest condolences to the family of Shireen Abu Aqleh", according to a statement issued by Foreign Office spokesman on Wednesday.
The Israeli attempts to silence the voices of those who continue to expose the Israeli violations would not succeed, rather reveal the continued brutality of occupation forces, he added.
He said that the the international community should take urgent action to put an end to the Israeli occupation, which continues to fuel conflict, tension and instability in the region, and remains a matter of grave concern for the entire Muslim world.
The Government of Pakistan stands in solidarity with the people and Government of the State of Palestine in their just demand for basic rights and dignity, he added.
"We reaffirm our consistent and unstinted support for the Palestinian people and the Palestinian cause, which has always been a defining principle of Pakistan's foreign policy," the spokesman concluded.
According to international media, the veteran Palestinian-American correspondent for Al Jazeera was killed while covering a raid by Israeli forces in the occupied West Bank.
The Qatar-based network said Shireen Abu Aqla was shot "deliberately" and "in cold blood" by Israeli troops in Jenin. Her producer was also wounded.
The Palestinian president said he held the Israeli government fully responsible for what he described as a "crime of execution".
Shireen Abu Aqla was known to millions for her coverage of the Israeli-Palestinian conflict
Shireen Abu Aqla, 51, was widely known and widely admired – by viewers and colleagues alike.
Early on Wednesday morning she went to the Jenin refugee camp to report on a raid by Israeli soldiers and security forces, which the Israeli military said was conducted to apprehend "terrorist suspects".
The Palestinian health ministry said Abu Aqla was hit in the head by a live bullet during the raid. She was taken to hospital in a critical condition and later pronounced dead.
Another Palestinian journalist, Al Jazeera producer Ali Samoudi, was shot in the back and was in a stable condition in hospital, the health ministry added.