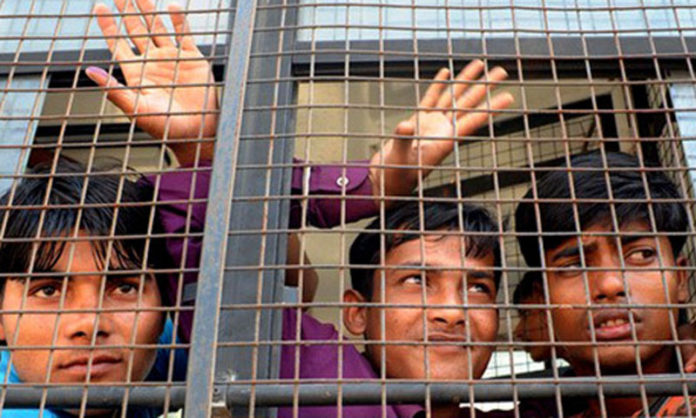 By Muhammad Luqman
Pakistan's Foreign Office has confirmed that there are 206 prisoners in China. Of these,195 are serving prison sentence in drug smuggling cases and 11 in other crimes such as dangerous driving, robbery and fraud.
"There is no linkage between the arrests of Chinese nationals in ATM fraud case, with Pakistani prisoners who are currently held in detention in  here (Karachi),  Foreign Office spokesperson Dr. Muhammad Faisal told media men in the capital, Islamabad.
He said that foreign nationals convicted in heinous crimes such as drug smuggling, murder and rape are sentenced after legal process under Chinese judicial system including evidence, confessions and written statements by witnesses.
"The Pakistani Missions in China are providing consular access to these prisoners,"  the spokesman said.
Regarding the possible involvement of Indians in  recent killing of the Chinese national in Karachi, the Indian State involvement in perpetrating terrorism in Pakistan is a known fact. The most recent example of which is the apprehension of the serving Indian Naval Commander Kulbhushan Jadhav, who has confessed to his involvement in numerous terrorist incidents in Pakistan.
Chinese national Chen Zhu  was shot dead by unidentified assailants, in  Karachi on February 5.
Dr. Muhammad Faisal said that the Indian forces have carried out more than 190 ceasefire violations along the Line of Control and the Working Boundary during the year 2018, resulting in the death of 13 innocent civilians, while injuring 65 others. This unprecedented escalation in ceasefire violations by India is continuing from the year 2017 when the Indian forces committed more than 1970 ceasefire violations, resulted in Shahadat of 54 civilians and injuries to more than 200. The ceasefire violations by India are a threat to regional peace and security and may lead to a strategic miscalculation.
Regarding the death of  Pakistanis on board a boat carrying migrants near Libya on January 31, Pakistan Foreign Office spokesman said that bodies of 11 Pakistanis will be dispatched to Islamabad from Libya  within next 3 days , depending on flight availability.
"Two  officials of the Mission in Tripoli have been permanently deputed at Zawara where the dead bodies and documents were washed ashore," the spokesman said.