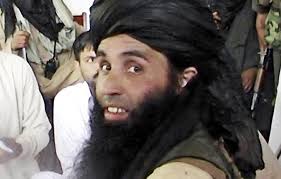 By Muhammad Luqman
Leader of Tehrik-e-Taliban Pakistan and mastermind of several terrorist attacks including Army Public School Peshawar carnage, Mullah Fazlullah has been killed in US drone attack in Afghan province of Kunar.
According to  Tolo TV channel, the Afghan Ministry of Defence spokesman Mohammad Radmanish has confirmed that Mullah Fazlullah who led the TTP from 2013, was killed in the attack on June 13 (Wednesday).
US forces had conducted the strike close to the border of Pakistan, targeting the chief of the group, according to US Forces-Afghanistan spokesman Lt. Col. Martin O'Donnell.
Fazlullah had been a major figure in the TTP even before he became its chief in late 2013, and once led a Taliban militia in Pakistan's Swat Valley.
A statement from US Forces-Afghanistan claimed that the strike did not put an ongoing, unilateral ceasefire initiated by the Afghan government at risk.
Mullah Fazlullah was elected Taliban leader in 2013. The previous head, Hakimullah Mehsud, was killed in a US drone strike in northwestern Pakistan just before Fazlullah took control.
Fazlullah known as Mullah Radio, a hardliner who broadcast fiery sermons and hard-line ideology via an  FM  radio station. The station was shut down when he was flushed out of Pakistan.
Along with masterminding the attack on  Malala Yousafzai in 2012, Fazlullah was the leader of the TTP when they claimed responsibility for the bloodiest terrorist attack in Pakistan's history, on 16 December 2014 at Army Public School in Peshawar, which left around 150 people most of them schoolchildren dead.
Fazlullah after being pushed out of Pakistan took refuge in Afghanistan and continued his terrorist activities from the lawless areas of the country.
In March, the US offered a $5 million reward for information on Mullah Fazlullah's whereabouts.
This is not however the first time reports have emerged of the death of Fazlullah after the elusive chief of the banned group was named TTP chief in late 2013. He succeeded Hakimullah Mehsud who was killed in a drone strike in November of that year.