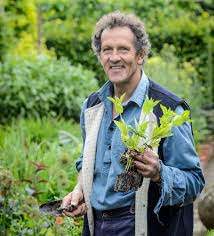 Monitoring Desk
The Food and Agriculture Organization of the United Nations (FAO) has appointed the popular British gardening expert, writer and broadcaster, Monty Don, as a Goodwill Ambassador to promote the International Year of Plant Health.
In addition, FAO has appointed the Irish garden designer, writer, and broadcaster, Diarmuid Gavin, as an official Champion of the cause.
Accepting their nominations Monty Don said: "I look forward to playing a small part in promoting the vital role of plant health as a key factor in the fight against hunger and poverty."
Diarmuid Gavin said "I am honoured and delighted to accept the role as Champion for the International Year of Plant Health for the Europe Region. I look forward to working with you to promote this vitally important issue."
The United Nations General Assembly declared 2020 as the International Year of Plant Health to raise global awareness on how protecting plant health can help end hunger, reduce poverty, protect the environment, and boost economic development. Due to COVID-19, the Year has been extended beyond the first half of 2021.
FAO estimates that up to 40 percent of food crops are lost due to plant pests and diseases annually. This leaves millions of people without enough food to eat and seriously damages agriculture – the primary source of income for rural poor communities. Plant health is increasingly under threat as climate change, and human activities, have altered ecosystems, reducing biodiversity and creating new niches where pests can thrive.
Protecting plants from pests and diseases is far more cost effective than dealing with full-blown plant health emergencies. Plant pests and diseases are often impossible to eradicate once they have established themselves and managing them is time consuming and expensive. Prevention is critical to avoiding the devastating impact of pests and diseases on agriculture, livelihoods and food security and many of us have a role to play.