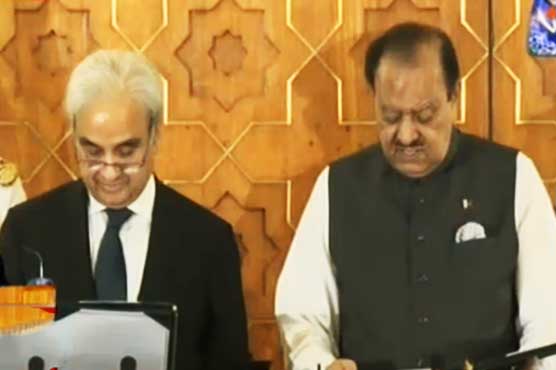 By Muhammad Luqman
Former Supreme Court Chief Justice , Nasirul Mulk took over as the care taker Prime Minister on Friday to oversee the electioneering process ahead of July 25 polls for the national and provincial assemblies as Pakistan's civilian government completed its five year term for only the second time in the country's history.
During its seven decades constitutional history, Pakistan has been ruled by the military for about 35 years. About 15 heads of government or Prime Ministers were deposed before completing their five year term on one pretext or the other.
The caretaker government remain in place for holding free and fair parliamentary elections slated for July 25.
Pakistan completed its first ever democratic transfer of power following elections in 2013, when the government headed by the Pakistan People's Party handed over to the PML-N, following a landslide victory.
Political uncertainty has prevailed on the political landscape of the South Asian country in the run-up to the July 25 elections following the ouster of former prime minister Nawaz Sharif by the Supreme Court on graft charges on July 28 last.
Since his ouster and a subsequent lifetime ban from politics, three-time Prime Minister Nawaz Sharif has adopted a head-on increasingly adopted a confrontational politics.
In the general elections, neck to neck competition is expected between PML-N and its arch-rival the Pakistan Tehreek-e-Insaf party led by former cricketer-turned politician Imran Khan, mainly in the Central Pakistan province of Punjab.
PTI with anti-corruption mantra has lured all the electables with an objective to win the elections at any cost while Pakistan Muslim League (N) of former Prime Minister Nawaz Sharif is endeavouring to win the elections by dishing out the development projects mainly the power plants and transport and communication infrastructure it developed during its five year term that ended on May 31.
Dispelling all the rumours about delay in the polls, the Election Commission of Pakistan (ECP)has issued schedule for the general elections being held on July 25.
According to the schedule , candidates can file nomination papers till 6th of June.
Scrutiny of nomination papers by Returning Officers will be conducted by 14th of this month.
Appeals against decisions of Returning Officers can be filed by 19th, while appeals will be decided by Appellate Tribunals by 26th of this month. Revised list of candidates will be published by 27th.