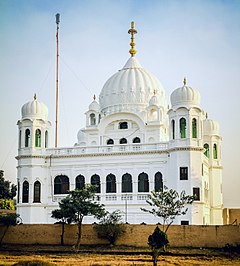 By Muhammad Luqman
Pakistan has reopened Kartarpur corridor for Sikh pilgrims from India after over 100-day closure.
The corridor , which was temporarily closed on March 16 due to the COVID-19 pandemic, has been reopened on the eve of the death anniversary of 18th century Sikh ruler of Punjab , Maharaja Ranjeet Singh,
According to Sardar Gobind Singh, Head Granthi of Gurdwara Darbar Saheb, Kartarpur, the death anniversary rituals of Sikh Maharaja Ranjit Singh were held on Monday.
However, not a single Indian Sikh pilgrim came to the Gurdwara as New Delhi had refused to allow the pigrims to cross into Pakistan territory through the corridor on the pretext of a short notice.
According to Indian media, Indian officials believe that there should have been atleast one week notice from Pakistan before re-opening the corridor.
Prime Minister Imran Khan had inaugurated the Kartarpur Corridor in November last year on the occasion of the 550th Birth Anniversary of the founder of Sikh religion, Baba Guru Nanak Devji.
Baba Guru Nanak had spent the last 18 years of his life in Kartarpur.
"The Kartarpur Corridor is a true symbol of peace and religious harmony. This landmark initiative by the government of Pakistan has been immensely appreciated by the Sikh community all over the world including India," said a statement from the Foreign Ministry.
"As the religious places are gradually opening up around the world, Pakistan has also made necessary arrangements to reopen Kartarpur Sahib Corridor for Sikh pilgrims," the statement added.
Kartarpur Sahib gurdwara situated in Narowal district– some 115 kilometers (71 miles) from the provincial capital Lahore — is one of the most revered places for the Sikh community as Baba Guru Nanak spent last 18 years of his life there.
The distance between Kartarpur and the town of Gurdaspur in India is merely 3 km (2 mi). But the closure of this crossing meant that Sikh pilgrims from India had to travel, hundreds of kilometers to cross the border at Wagah, near Amritsar and then travel to Lahore, to reach Kartarpur.