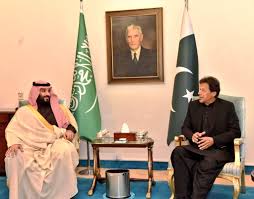 By Muhammad Luqman
Accepting Prime Minister Imran Khan's request to consider cases of Pakistani prisoners in Saudi jails  , visiting  Saudi Crown Prince  Mohammed Bin Salman bin Abdul Aziz has ordered the release of 2017 Pakistanis.
Speaking at the banquet hosted in honour of Prince Mohammad Bin Salman in the capital Islamabad, Prime Minister Imran Khan had requested the Saudi Prince to take measures for the early release of 3,000 Pakistani prisoners jailed in Saudi Arabia.
In response, the Prince assured the Prime Minister that Saudi Arabia would do whatever it could to address those issues.
"Consider me Pakistan's ambassador to Saudi Arabia," Mohammed Bin Salman assured.
Pakistan's Foreign Minister Shah Mehmood Qureshi said announced on Monday that 2107 prisoners will be freed by Saudi Arabia with immediate effect while cases of the remaining will be reviewed.
Imran Khan had also referred to the problems of Pakistani Hajj pilgrims in Saudi Arabia and requested that their immigration should be done in the three big cities of Pakistan.
Saudi Arabia has also pledged investment deals worth $20bn with Pakistan that needs quantum jump in foreign investment to strengthen its economy.
The deals include an $8bn oil refinery in the port city of Gwadar, that is also the extreme south terminal of US $ 60 billion China-Pakistan Economic Corridor.
The two sides signed several MoUs in the sectors of energy, petrochemicals and mining sectors, according to media reports.
Pakistan is the first leg of Saudi Crown Prince Mohammed Bin Salman's Asian tour. He will also visit, India, Malaysia and China.