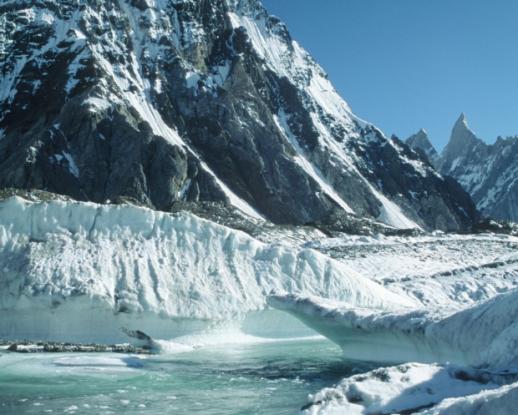 Web Desk
Millions of farmers in South Asia depend on meltwater from the Himalayas. Melting glaciers, rainwater and groundwater allow farmers downstream to irrigate their crops. Using a novel model, an international team of researchers determine for the first time how great the impact of melting glaciers will be on the downstream water supply in the future, and how the pressure on different water sources will increase,warned International Centre for Integrated Mountain Development (ICIMOD).
The Himalayas are a climate change hotspot: areas located at high altitude heat up faster than the rest of the planet. As a result, glacier ice is melting which affects the millions of farmers downstream who are partly dependent on glacial meltwater. In addition to climate change, an increasing demand for water – due to expanding farmland to feed a growing population – plays an important role in determining future water shortages. "Using a novel model, we were able to calculate very precisely where and when water will be needed in the future, and where it will come from – rainwater, groundwater, or meltwater from the mountains," says Arthur Lutz, hydrologist at Utrecht University and lead author of the study.
The model integrates the effects of climate change and increasing water demand. Lutz: "The model incorporates changes in snowfall and glaciers in the high mountains, as well as changes in water use for downstream agricultural crops." This allowed the scientists to see exactly what the climate and socio-economic effects would be on South Asia's water supply in the future. They were also able to see how the pressure on different water sources (meltwater, rainwater, groundwater) will change.
What exactly will change? Global warming causes glaciers to start melting earlier in the year, just when crops are being sown. This is favourable, but later in the year, when crops need the most water, there is less meltwater. Climate change also makes rainfall more irregular, so farmers have to pump more groundwater later in the year to compensate for a shortage of rain and meltwater. The effect is exacerbated by expanding farmland needed to feed more people. "Therefore, a lot of extra groundwater has to be pumped up, more than can be replenished," says Hester Biemans, researcher at Wageningen University and co-author of the new study. "This is not sustainable in the long run."
"This study uses a unique cryosphere–hydrology–crop model that projects how sources of water supply such as meltwater and groundwater will shift in the future in the Indus, Ganges and Brahmaputra basins. The results of this study will help us to better plan agriculture and agriculture water management, which is esentially important to avoid water scarcity and the depletion of groundwater resources." says Arun Shrestha, Senior Climate Specialist at the International Centre for Integrated Mountain Developement.
The results of this study can be used for targeted climate adaptation and sustainable water management in this geopolitically complex region. This could include increasing water storage capacity in large and small reservoirs, using water more efficiently in agriculture, and switching to different crops or different sowing dates. Such measures can help reduce the pressure on meltwater and groundwater resources. The researchers will continue their calculations to determine the best combination of measures.
Meanwhile, May has been unseasonably hot across much of India and Pakistan. Climate stations in New Delhi and Mumbai have averaged 4.7 and 2.3 in Fahrenheit, 2.80 and 1.28 in Celsius, respectively above normal for the month so far.
March of 2022 was the hottest March for India as a whole since 1901, according to meteorologists from the India Meteorological Department (IMD). When averaged across the entire country, March's average high temperature was an astonishing 3.35 F (1.86 C) above the climatological average, according to a report of Accuweather website.
India, home to nearly 1.4 billion people, has experienced heat wave after heat wave during the months of April and May, and researchers from the Met Office in the United Kingdom suggest that the chances of a record-breaking heat wave, especially in northwest India and Pakistan, is over 100 times more likely than in the past because of climate change.
Dr. Nikos Christidis, a scientist with the Met Office, recently conducted a climate study in India, focusing on estimating the likelihood of the combined April and May temperature reaching a new record in the year 2022 and assessing the relationship between human and climate interaction and if that is changing the likelihood of extreme heat waves.
Over the course of the study, researchers compared previous heat waves from April to May from 1900 to 2010. From this comparison, the type of intense heat that's occurred this year would occur only once every 300 years, but when 2010 and 2022 were compared, the likelihood of an extreme April to May heat wave like what's been experienced this year jumped to once every three years. By the end of the century, the likelihood will increase to once every year that a historic heat wave would take place during April and May, according to the researchers' calculations.
"Spells of heat have always been a feature of the region's pre-monsoon climate during April and May. However, our study shows that climate change is driving the heat intensity of these spells making record-breaking temperatures 100 times more likely," Dr. Christidis explained.
The study's release comes during a week when another brutal heat wave has gripped much of India. The heat caused temperatures to flirt with all-time records and a historic bridge to crumble due to excessive heat in Pakistan, leaving many wondering if this is truly the new normal across much of India and Pakistan.
Pakistan and neighboring India have been sweltering amid an intense heat wave that has led to weeks of dangerous air quality and rampaging wildfires. The early-season heat has also been blamed for causing the rapid melt of the Shishper Glacier in northern Pakistan, which led to destructive flooding downstream.
"The Hassanabad Bridge in Pakistan's Hunza Valley was completely destroyed on Saturday as the melting glacier sent torrents of water coursing through area streams in a phenomenon known as a glacial lake outburst flood," AccuWeather Meteorologist Renee Duff explained.
The extreme heat first ramped up late last week, especially for the region surrounding the capital city of New Delhi, home to more than 30 million people. Temperatures in the capital soared into the 110s (above 43 C) last Thursday, May 12.
Temperatures in New Delhi peaked on Sunday when the city experienced its hottest day of the year so far. The mercury topped out at a staggering 116 degrees Fahrenheit (46.7 C) on Sunday at the city's official climate site.
To put this in perspective, the all-time May high-temperature record for any reporting station in New Delhi is 117 degrees F (47.2 C), according to AccuWeather Senior Meteorologist and Lead International Forecaster Jason Nicholls.
This most recent heat wave is the fifth of its kind to occur in the capital city since March, according to the BBC.
The heat has not let up across the capital this week as high temperatures have remained above 100 degrees F (37.8 C). On Thursday, the high in New Delhi reached 112 degrees F (44.4 C) just a few degrees shy of the all-time record for May.
Even as the heat began to ease slightly, temperatures across much of northern India were over 100 F (38 C) on Friday evening, May 20, local time. (AccuWeather)
Amid the scorching heat, one autorickshaw driver in New Delhi found a unique way to keep his passengers cool. Mahendra Kumar is the owner of an autorickshaw that has a living, green roof. The roof is made up of plants that help keep the intense sunlight from radiating the heat straight onto the vehicle's roof. This green rooftop helps to create essentially a "natural air conditioner" for passengers, Kumar told AFP via a translator.
AccuWeather meteorologists say that high temperatures in New Delhi are expected to dip into the lower to middle 90s on Monday and Tuesday. Also, a couple of thunderstorms will be around on Monday and Tuesday across New Delhi, making it feel cooler due to rainfall.