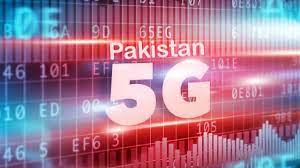 Web Desk
Pakistan will launch the much-awaited 5G Technology by July next year, said Federal Minister for Information and Technology and Communication Syed Aminul Haque while speaking at a ceremony in the port city of Karachi on Thursday.
However, he did not give more details about the roll-out of this futuristic technology in this part of the world.
In terms of leading the global race in 5G innovations, countries like the US, China, South Korea, Japan, Netherlands and the Philippines have some of the biggest rollouts. Two South Asian countries Bangladesh and India have already auctioned the 5G spectrum, with the operators prepping for mass in their respective countries. Bangladesh auctioned the spectrum for around $1.2 billion in March this year while India also conducted a successful auction in October for $19 billion.
In Pakistan's case, initially it was planned that the auction would be held in December 2022 but now it has been delayed by atleast six months. In the first phase , it will be rolled out only in three cities i.e. Lahore, Karachi and Islamabad.
The primary issue for the delay in the launch is the unwillingness of the Cellular Mobile Operators (CMO) to participate in the 5G auction as they believe that currently, the business case for such roll out doesn't exist.
However, the technology whenever launched, would change the fate of people of this country. According to a research paper published by the Pakistan Institute of Development Economics (PIDE), "5G will help the digitalisation of Pakistan by connecting people with robust purpose-built technology opening up opportunities for industries as well as individuals. They are expected to benefit from future innovations in distance learning, public safety, manufacturing, transportation, health, etc."
"The introduction of e-governance will enhance the enabling role of the government and bring about transparency and efficiency in processes. 5G will increase the demand for fiber as each building needs a fiber connection and a small antenna/base station for a cellular company. It will increase demand for mobiles that are compatible with 5G technology and we also need new devices to operationalise 5G in our country." the report futher said.
Meanwhile, the Hong Kong based smart phone company Infinix plans to introduce its new Zero 5G 2023 in Pakistan with 5G capability, the first 5G phone by Infinix. The Infinix Zero 5G 2023 competes with other 5G smartphones.
5G can reach 150 MB/s. Infinix Zero 5G 2023 sports a Gorilla Glass-protected LTPS display and an aluminium body. Infinix's first flagship phone has an octa-core (22.4 GHz Cortex-A78 and 62.0 GHz Cortex-A55) and Mali-G68 MC4 GPU.