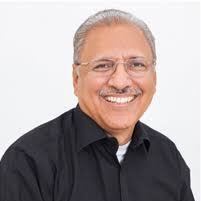 By Muhammad Luqman
Ruling party, Pakistan Tehreek-e-Insaaf (PTI)'s candidate Dr. Arifur Rehman Alvi has won the Presidential elections, becoming the 13th head of state in Pakistan's 71 years history.
He is replacing Mamnoon Hussain whose five year term expires on September 9.
Alvi born on July 29, 1949 is a dentist by profession.
He received a degree of Bachelor of Dental Surgery from De'Montmorency College of Dentistry, Lahore. He completed his Masters in prosthodontics from the University of Michigan in 1975 and Masters in orthodontics in 1984
He has been the president of the Asia-Pacific Dental Federation and of the Pakistan Dental Association
During his studies at De'Montmorency College of Dentistry, he was an active member of the student unions. He was affiliated with right wing  Islami Jamiat Talaba, a student wing of Jamaat-e-Islami Pakistan (JI).
His political career is marked by ups and downs. Dr. Alvi ran for a seat of the Provincial Assembly of Sindh as a candidate of the JI from a constituency in Karachi in 1979 but lost the elections.
In 1996 he joined Pakistan Tehreek-e-Insaf (PTI] and became was one of the founding members of party. He remained a member of the PTI central executive council for a year before becaming president of PTI Sindh in 1997. He lost election 2002. However, he was able to win  National Assembly seat in 2013 and 2018 elections.
Alvi's political stint extends to a period of over five decades that commenced with his involvement in student politics as a president of the student union at de'Montmorency College of Dentistry in Lahore.
According to PTI activists, during one of the demonstrations at The Mall in Lahore, he was shot and wounded. However, he "still 'proudly' carries a bullet embedded in his right arm as an emblem of his struggle for democracy in Pakistan".