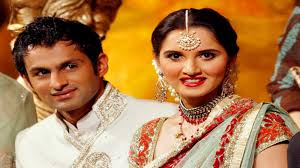 By Muhammad Luqman
Indian Tennis ace Sania Mirza and Pakistani cricketer Shoaib Malik are expecting their first child, the couple made announcement  on social media website, twitter.
In a picture posted by them  on Twitter of a family wardrobe design which had three sections — one with a shirt which read Mirza, the second section had a children's romper hanging which read Mirza-Malik and the third had a shirt reading Malik.
According to a press release by the couple's media manager, the couple is 'really excited to enter the new phase of their lives.'
"We have been thinking about it for a while and look forward to our journey as parents InshaAllah .. when we found out we were ecstatic, needless to say, our families are overwhelmed and super happy and we wanted to share this amazing news with all our fans and well-wishers," said Shoaib.
Sania also expressed her joy at beginning her journey as a parent.
"We are soon to become parents. Having thought about it for a while, we both felt right now is the correct time to start a family," said the tennis star.
"We are very excited to enter this new phase of our lives and look forward to our journey as parents," she said.
Earlier, Sania had said that her child will have the surname Mirza-Malik. Pakistan has already similar example of Bilawal Bhutto Zardari, the son of Pakistan's former President Asif Ali Zardari and late Prime Minister Benazir Bhutto.
Recently, speaking at the Gender Bias panel at the 'Goa Fest 2018', the tennis ace star spoke about her personal experience about gender bias and how her husband wants a 'daughter'.
"Today I will tell you a secret. My husband and I have spoken about it and we have decided that whenever we have a child, the child will have Mirza Malik as a surname and not just Malik. So that's where we stand as a family including my husband. He actually wants a daughter," she had said.
Sania and Shoaib tied the knot in Pakistan's eastern city of Lahore in 2010.