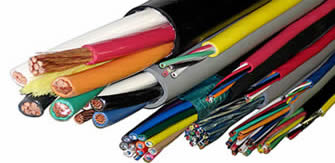 By Muhammad Luqman
Lahore-based Pakistani cable manufacturing company, Fast Cables , has been able in getting Golden Certification from Kema, the leading accreditation agency of Holland, becoming eligible to sell products to international firms engaged in infrastructure projects in Pakistan and other countries of region.
" The certification is going to help us to sell cables and other allied products to the Chinese companies executing projects under China-Pakistan Economic Corridor," jubilant Kamal Amjad told newsmen in Lahore on Monday.
Fast Cable has so far been able to export its products to neighbouring Afghanistan, Sudan and Iraq but could not export to any quality conscious country for not having any international accreditation.
Pakistani Cable and wire companies have been complaining of not getting any order for the purchase of products from the Chinese companies carrying out projects under CPEC.
" Pakistani companies should also be given tax exemptions similar to ones offered to Chinese and other importers," President Lahore Chamber of Commerce and Industry (LCC), Tahir Javed Malik said.
He said that the current exemptions from customs duty and sales tax on the import of wire and cable for CPEC projects promoted imports from China at the cost of local industry.
In the first quarter of the current fiscal year, 88 per cent (or $21 million) of wire and cable imports were originated from China, according to official data.
In the latest budget the government exempted imports and supply of materials and equipment, including electrical wire and cable, for the development of Gwadar port and free economic zones. But these exemptions were not extended on goods produced locally.
Furthermore, the benefits provided to companies in special economic zones only apply to joint venture companies with foreign partners.
The local manufacturers who have approached the government regarding this discrepancy about six months ago, included Allied Industries (Pvt), Ltd, Atta Cables (Pvt), Ltd, Eagle Cables (Pvt), Ltd, Fast Cable Ltd, H.M. Esmail & Company, Newage Cables (Pvt), Ltd, Pakistan Cables Ltd, Steel Complex (Pvt), Ltd, and Universal Cable Industries.
At the launch of the CPEC, it was announced that China will invest $36bn in the power sector which will benefit electricity cables businesses in Pakistan.
Power plants of 25 megawatts and above are allowed to import wires and cables at a reduced rate of customs and zero sales tax. However, these power projects will have to pay 17pc sales tax in case they buy from local manufacturers. The local manufacturers have also sought zero sales tax to plants of over 25MW.
Most of the primary raw materials for the cable and wire industry are not produced in Pakistan. Duties on raw materials have been on the rise over the years. This has made the local industry less competitive as compared to imports. For example, the customs duty on base metals — copper cathode and aluminum ingot — was 3pc along with additional customs duty of 1pc.