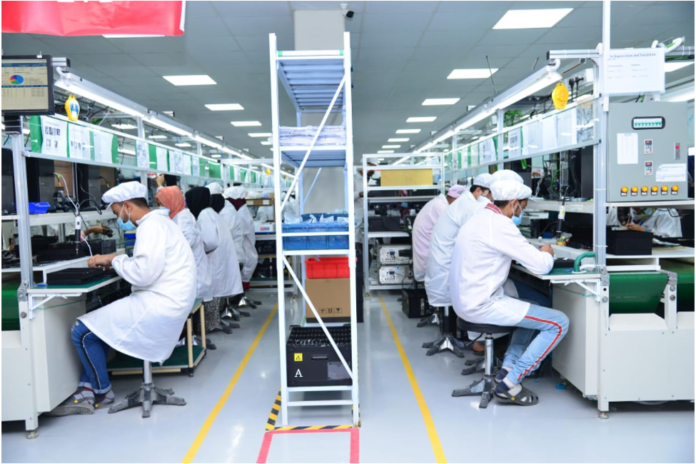 By Muhammad Luqman
The Economic Coordination Committee of Pakistan's federal cabinet has constituted a committee to devise a comprehensive policy to incentivize "Smart phone manufacturing in the country with over 164 million cellular subscribers.
" The committee to be headed by Federal Minister for Industries and Production, will have members from Ministries of IT and Industries, Board of Investment and Engineering Development Board," according to a statement issued by Federal Ministry of Finance on Wednesday.
The Committee will bring its proposals after consultation with all the relevant stakeholders in due course.
Since the advent of mobile phone technology in this part of the world, Pakistan had been net importer of the cellular phone sets. A number of companies including Haier, Techno and Xiaomi phones were assembling a small quantity of phones locally. However, in February this year, a Hong Kong-based smartphone manufacturer, Infinix, became the first smartphone company to start manufacturing in Pakistan.
"Fully aligning with the country's initiative of 'Made in Pakistan', the company keeps growing its investment to contribute and help transform Pakistan into a regional tech hub. This is just one step further towards our mission and commitment to putting Pakistan on the road to progress and prosperity," according to a spokesperson of the company.
The joint-venture company – the first 3G/4G smartphone manufacturing facility in Pakistan – has initial capacity to produce 1.8 million units annually on a single-shift basis with over 800 skilled workers below 30 years of age.
Pakistan has over 164 million cellular subscribers out of a population of 207 million. The country ranks seventh among world's largest handset importers. The Pakistani mobile phone market is estimated at 53 million units annually. This makes Pakistan one of the top 10 global markets for feature phones and smartphones. Sales value of mobile phones in Pakistan was estimated at Rs366 billion in 2019. This makes the industry bigger than automobile sector, with sales of Rs360 billion in 2018.
As far as the use of smart phone is concerned, the country saw some 120 million mobile subscriber identity modules (SIMs) sold with 46 million supporting 3G/4G while 68 million were 2G subscribers last year.
Even in global terms, the situation is almost the same. he mobile phone sector ranks among the five biggest industries in the world with sales revenue of $522 billion and over 6 billion devices sold annually.
China has been enjoying the label of being the global hub of handset manufacturing since 2010. The country exports mobile phones worth over $150 billion a year.
However, the handset production is now moving out of China due to rising labour cost and a prolonged trade war with the US.
Despite these opportunities, Pakistan still remains far behind in the race of providing cheap labour force as many other Asian nations are increasingly luring mobile phone assembly companies by offering low-cost workers.
Most of the demand for mobile phones stems from Asia and Africa while markets in Europe and North America are on a saturation point, hence, their trend remains more or less flat each year. This provides a further incentive to the mobile phone manufacturers to relocate their units to Asian nations.
According to Statistics, 1.5 billion units of smartphones were sold in 2019 worldwide. The number had been 122 million in 2007.
Recent steps taken by Pakistan's regulator, Pakistan Telecommunication Authority (PTA) have been helpful in boosting the telecom sector. It has successfully tackled the handset smuggling. Government's endeavours to curb grey channels have yielded results as the country recorded 110% increase in legally imported mobile phones in 2019 compared to 2018.
"According to analysis, an increase of 110% has been seen in legal import of devices from the formal channel," according to PTA spokesperson.
Over more than a year ago, the government started blocking the mobile sets (smuggled phones) that were not approved by PTA with the help of Device Identification, Registration and Blocking System (DIRBS).