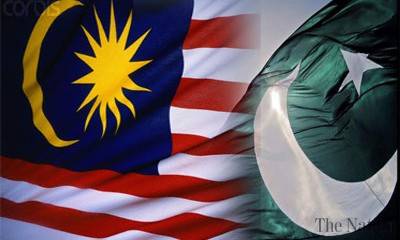 By Muhammad Luqman
Pakistan and Malaysia are negotiating to make the decade-old Free Trade Agreement a win-win proposition for both the countries by cutting down duties on existing and additional tariff lines.
" We are working to ensure that the trade provides a win-win situation for both the countries," Malaysian High Commissioner Ikram M. Ibrahim told media men after inaugurating a paint manufacturing facility in Pakistan's eastern city of Lahore.
Pakistan's Diamond Paints and Malaysia's Alps Coating company have entered into a joint venture and set up an integrated paint company.
Pakistan and Malaysia had  inked the Comprehensive FTA for Closer Economic Partnership back in 2007. The agreement was Pakistan's first comprehensive FTA incorporating trade in goods, trade in services, investment and economic cooperation and Malaysia's first bilateral FTA with any South Asian country.
Ikram M. Ibrahim said that the total volume of Pakistan-Malaysia bilateral trade  at present was US $ 1.34 billion and the balance of trade was heavily in favour of  the South East nation due to exports of palm oil to Pakistan.
About  the phasing out of manufacturing , sale and consumption of hydrogenated cooking oil or Vansapati ghee in Pakistan's Punjab province by the year 2020, the High Commissioner said that Malaysia would definitely take stock of the possible impact of this step as palm oil imported from Malaysia and other South East Asian countries was the major raw material.
" We may consult other exporting countries of the South East nations like Indonesia in this regard," Ikram M. Ibrahim said.