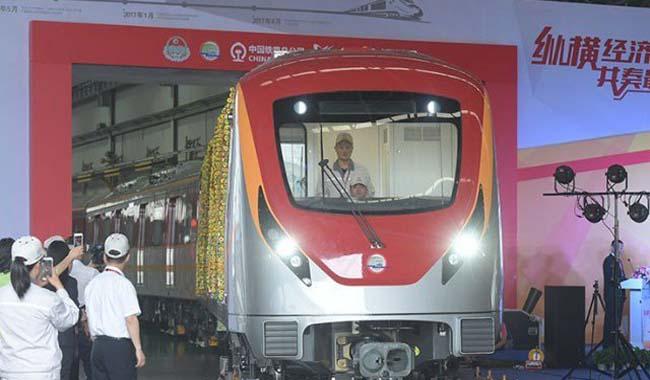 By Muhammad Luqman
Though the launch of the much-awaited Orange Line Metro Train seems a distant dream due to litigation in Pakistan's apex court, the first set of bogies of the Lahore Orange Line Metro Train has been unveiled in eastern city of Lahore.
"The benefits of the project, upon completion, will be immense as nearly 0.25 million commuters will travel via Orange Line train and it would make commute easy for everyone," Chief Minister of Pakistan's Punjab province , Shahbaz Sharif said.
The train will cover a distance of 27 kilometres from Darogawala to Thokar Niaz Baig terminal will be covered in 45 minutes.
Some 27 trains will be made available for public use on December 25 — when the project will be officially launched. A single train has the capacity to carry 1,000 people, out of which 200 can be seated while 800 can commute while standing.
Launched in May 2014 by the Punjab government , in collaboration with a Chinese company, the project will be the country's first metro line.
In April, the Supreme Court of Pakistan was expected to deliver a decisive verdict on a petition regarding the damage caused to heritage sites due to the construction of this project.
However, the SC reserved its judgment and asked the Punjab government to file a comprehensive report to the court, detailing measures it would take to address the petitioner's and civil society's concerns over the matter.