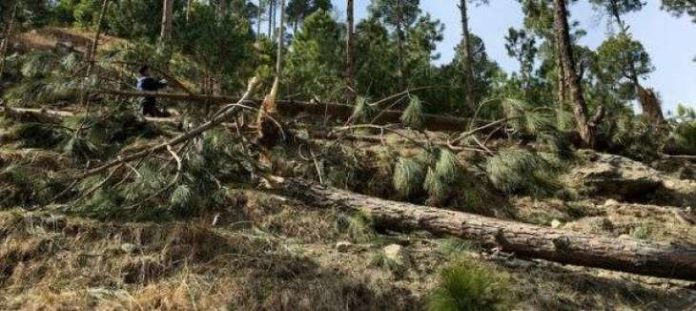 By Muhammad Luqman
Pakistan's Forestry department has registered a case against pilots of the Indian Air Force (IAF) for bombing and destroying trees in the Balakot area on February 26 , according to media reports.
The FIR, registered against unidentified IAF pilots, also details the damage suffered by 19 trees after Indian aircraft "hastily dropped their payload".
Islamabad also plans to lodge a complaint against India at the United Nations, accusing New Delhi of "eco-terrorism".
Indian warplanes bombed Jabba Top, a hilly forest area near the northern town of Balakot, about 40km from Line of Control , dividing Kashmir region into Azad Jammu and Kashmir and Indian-controlled Kashmir.
Pakistan's Climate Change Minister Malik Amin Aslam had said Indian jets bombed a "forest reserve" and the government was undertaking an environmental impact assessment, which will be the basis a complaint at the United Nations and other forums.
"What happened over there is environmental terrorism," Aslam said, adding that dozens of pine trees had been felled. "There has been serious environmental damage."
The United Nations states that "destruction of the environment, not justified by military necessity and carried out wantonly, is clearly contrary to existing international law", according to the UN General Assembly resolution 47/37.
India had claimed that the attack had left hundreds of militants dead while Pakistan strongly rebuts this claim, calling it a New Delhi's stunt to seek political mileage ahead of April-May General Elections.