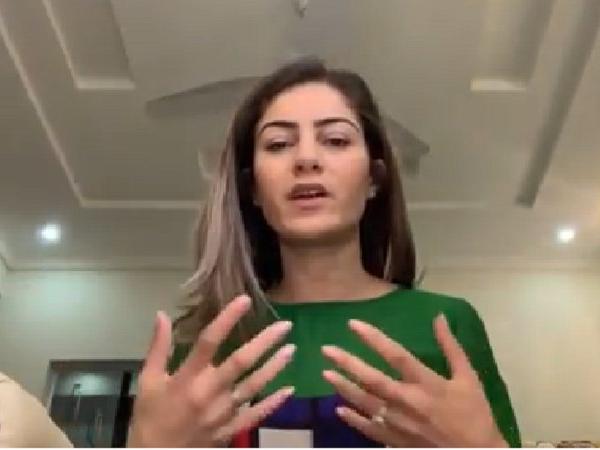 By Muhammad Luqman
Canadian model Asoomii Jay who had alleged she was sexually harassed by two men in Islamabad has reportedly withdrawn her case against the offenders, according to media reports.
In a video message, Jay said she has identified the men who harassed her; however, she wishes to withdraw her plea filed against them.
Expressing gratitude in the way the matter was handled; Jay said the swift action taken by the Pakistani authorities  is a testimony to the fact that Pakistan is a peace-loving country.
"I have dropped all charges after I received a sincere apology because I truly believe in the concept of "it takes a village to raise a child" when I found out these boys were young and their families were being tormented, I understood their parents will deal with them at home for bringing shame," she said.
She continued, "The abuse I continue to get from some men and women is appalling. Rather than using my platform and the women using their voice and experience and us working together for the future of our daughters in Pakistan, they want to also silence me and telling me my help is unwanted. I pray intellect prevails and we women can work together to bring change."
Thank you again to the police of Pakistan and Imran Khans new initiative Pakistan Citizen Portal which helped me make this report, Jay added.
Earlier this week the Canadian national was harassed and forced to take refuge in a shopping mall in Islamabad, according to Geo TV.
She later released a video in which she recounted the incident and said she faced a lot of backlash from the public, blaming her for the attire with some also saying that she has not been integrated enough to earn any respect.
"Rather than blaming a woman for being sexually harassed, let's discuss the real issue: lack of men being held accountable for their harassment," she said.
A first information report was filed at the Sihala police station over the alleged harassment Jay faced while visiting the capital city.
According to the FIR, two men had persistently harassed Jay and then forced her cab to stop in the middle of the road and asked her to sit in their car. They then proceeded to chase around her car and consistently inquired the driver about the woman's destination.